The Department of Economic Engineering invites you to study in the following study programs and choose the specializations supervised by the Department:
Bachelor study program: Economics Engineering, specialization of International Economic Relations.

Bachelor study program: Business Analytics.

Master's study program: Economics Engineering, specialization of Global Economics.
The study programs of the Department of Economic Engineering are characterized by exceptional international opportunities. Upon enrolling in the graduate I degree program in Economic Engineering and choosing the specialization in International Economic Relations, students have the opportunity to get a double degree with Kyungpook National University.

This year 5 third-year students of the Economic Engineering study program took advantage of this opportunity.


Here are the impressions of some of them:

I chose South Korea not only because of my double degree but also because of the beautiful nature, a culture that is still so unfamiliar. Although I used to have a lot of fears about the English language, cultural differences and the studies themselves, I have been here for 3 weeks now - I feel completely calm! The city of Daegu, where Kyungpook University is located, is surrounded by mountains, so nature is definitely insight, and in the city center, you can see colorful billboards, posters as we are used to seeing in movies. Although I haven't started studying yet, I already feel that this will be my best year not only for studying but also for the new friends and adventures of the people around me. I think every student should take this opportunity at least once because it is these memories that will last a lifetime.

Impressions and photos were shared by the third-year student of the Economic Engineering study program - Dovilė Baguckytė.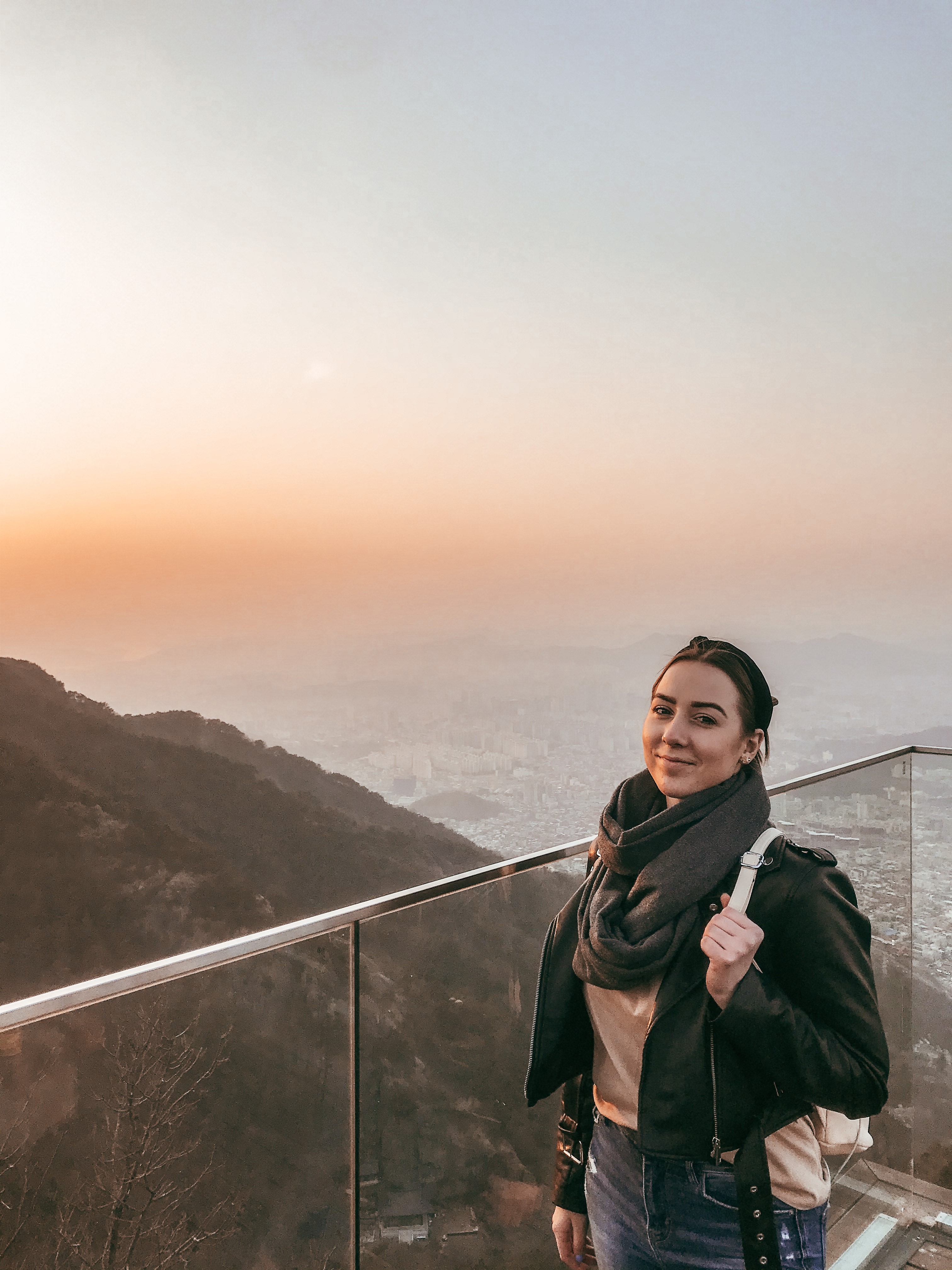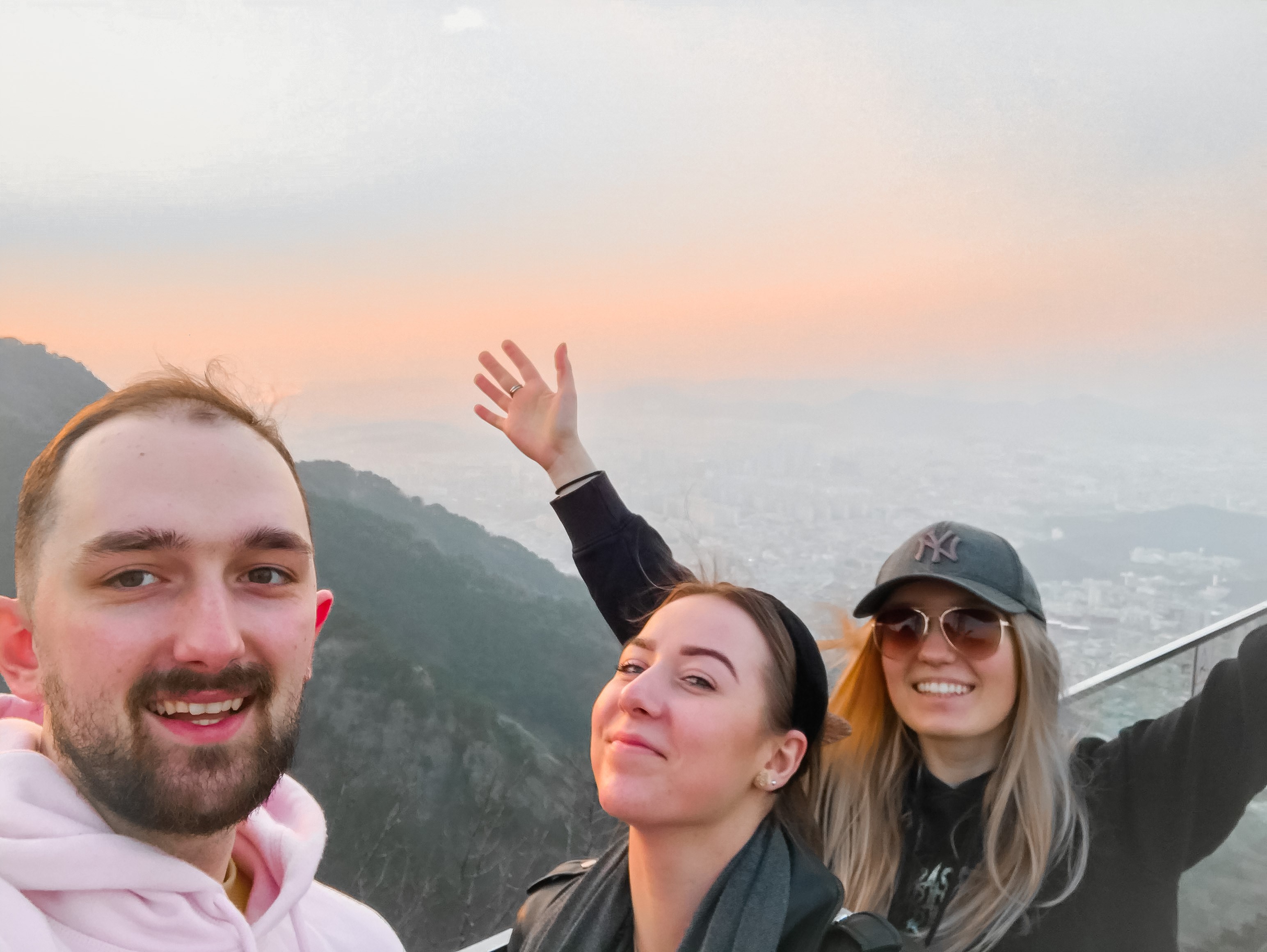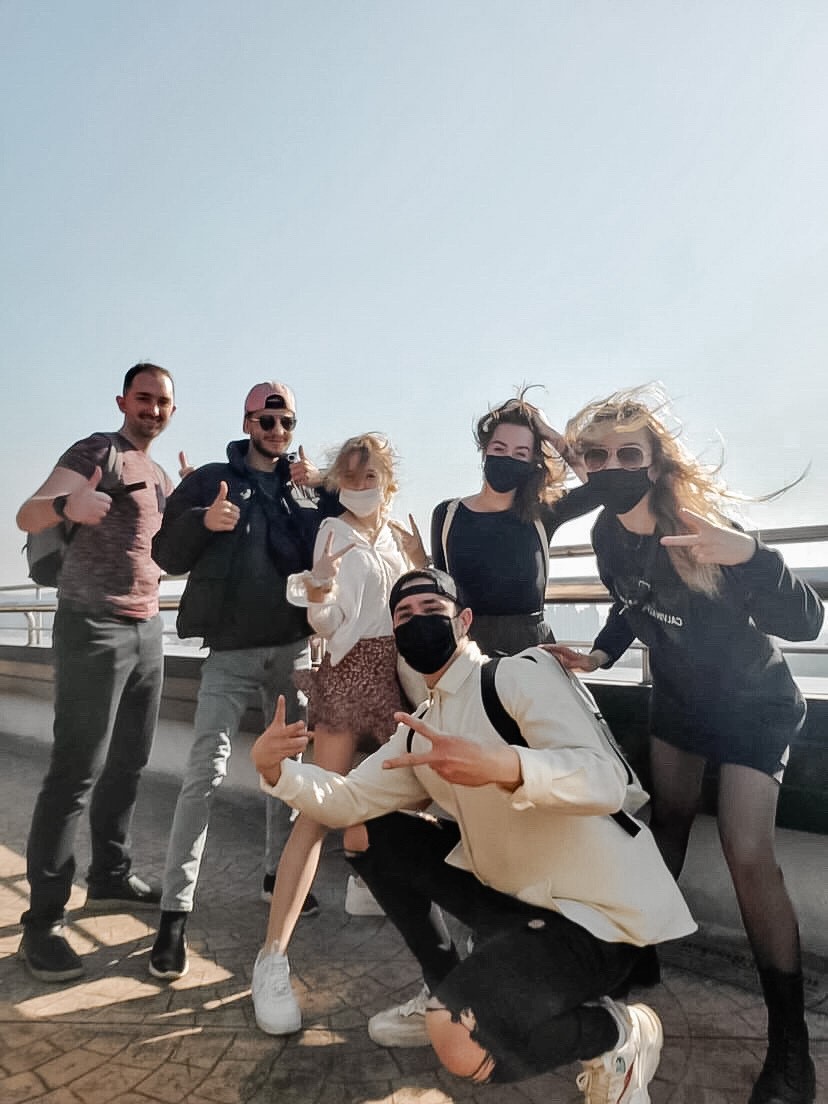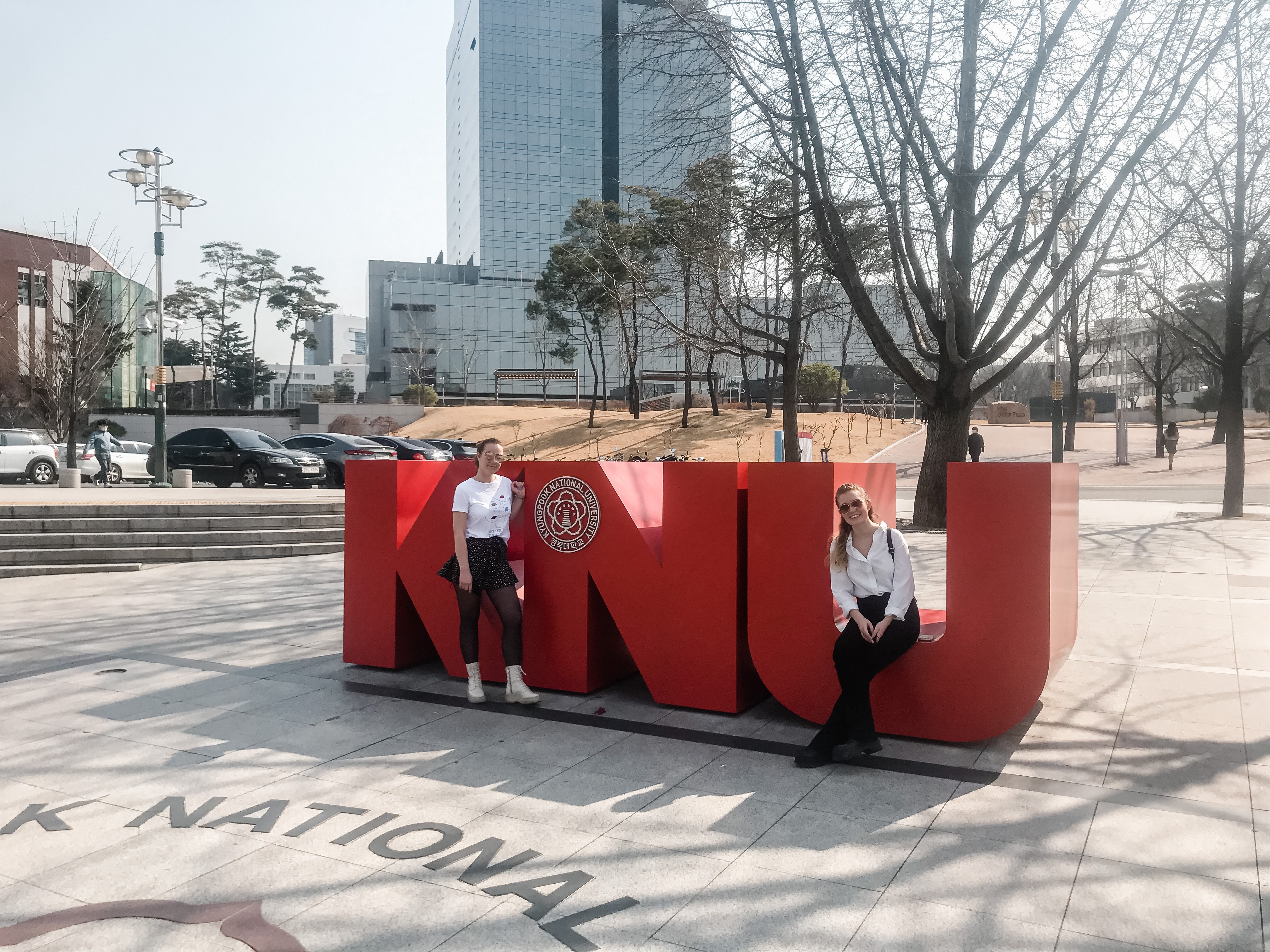 It's quite fun in Korea, I feel a lot of cultural differences, starting from life in the city itself, and people interact not only with locals but also with foreigners. Very sincere people and very friendly, very willing to help with everything. I also like the whole culture and landscapes, which we are always surrounded by cities, mountains, nature, the life of the city itself. It constantly feels that everything is moving, it feels great that a big city (over 2.5 million inhabitants.) It is also very interesting that cities are modern enough but colorful; There are always a lot of billboards and other colorful advertisements at the night, as in Las Vegas, and although there are also many old buildings, they are plentiful in the city.
Nature is very beautiful as the city is surrounded by mountains where you can see amazing views. Everything was enjoyed except the weather in summer. It was really very hard because it was very hot but also very humid so it was hard enough for everyone. But now the weather is the same, so it's a great pleasure to enjoy city life.

When it comes to science and university, they really work professionally. Everything is very organized, and structured. the university staff is very polite and friendly, takes great care of everyone's well-being, and helps with everything they need. The lectures are also good enough. The teachers are enthusiastic, kindly explain everything, and help. Everything is done in English, but it doesn't cause too much difficulty, only, I think I find it a little harder to learn than VGTU, especially during the mid-term examinations. Anyway, we are all very pleased that we left, albeit during a pandemic, during the coronavirus. The country is very safe and professional in this respect. We really strongly recommend coming to this university. While it may be harder to do so now with coronavirus, it is very worthwhile to gain both cultural and professional knowledge.


Impressions and photos were shared by the third-year student of the Economic Engineering study program - Edvinas Kmito.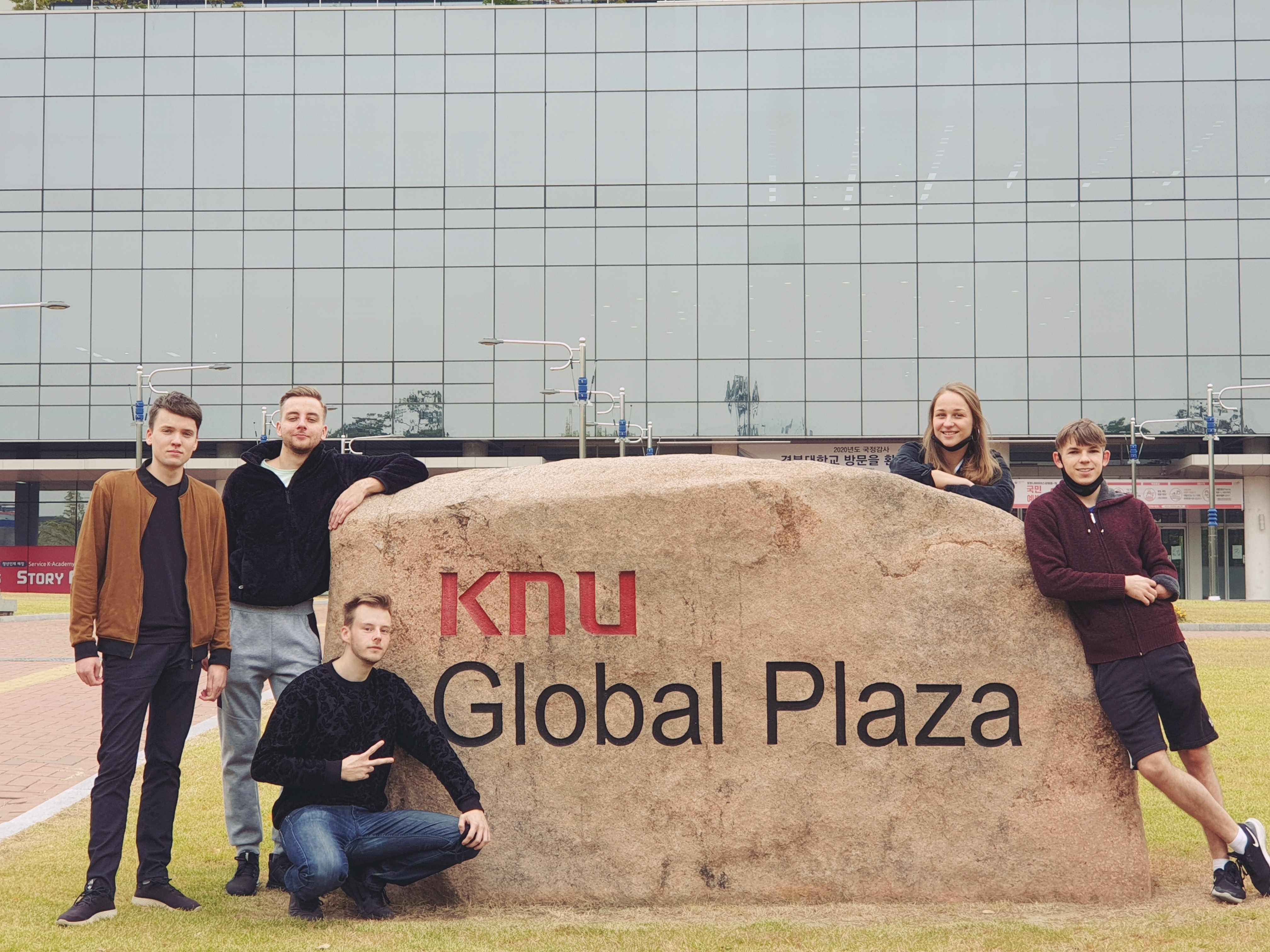 The first this opportunity has been used by Rima Toločkaitė - Bachelor student of Economics Engineering, International Economic Relations specialization. She spent one year at Kyungpook National University (KNU) (South Korea) and will get this January a double diploma from KNU in Economics together with Vilnius tech in Social Sciences.
Here are her impressions: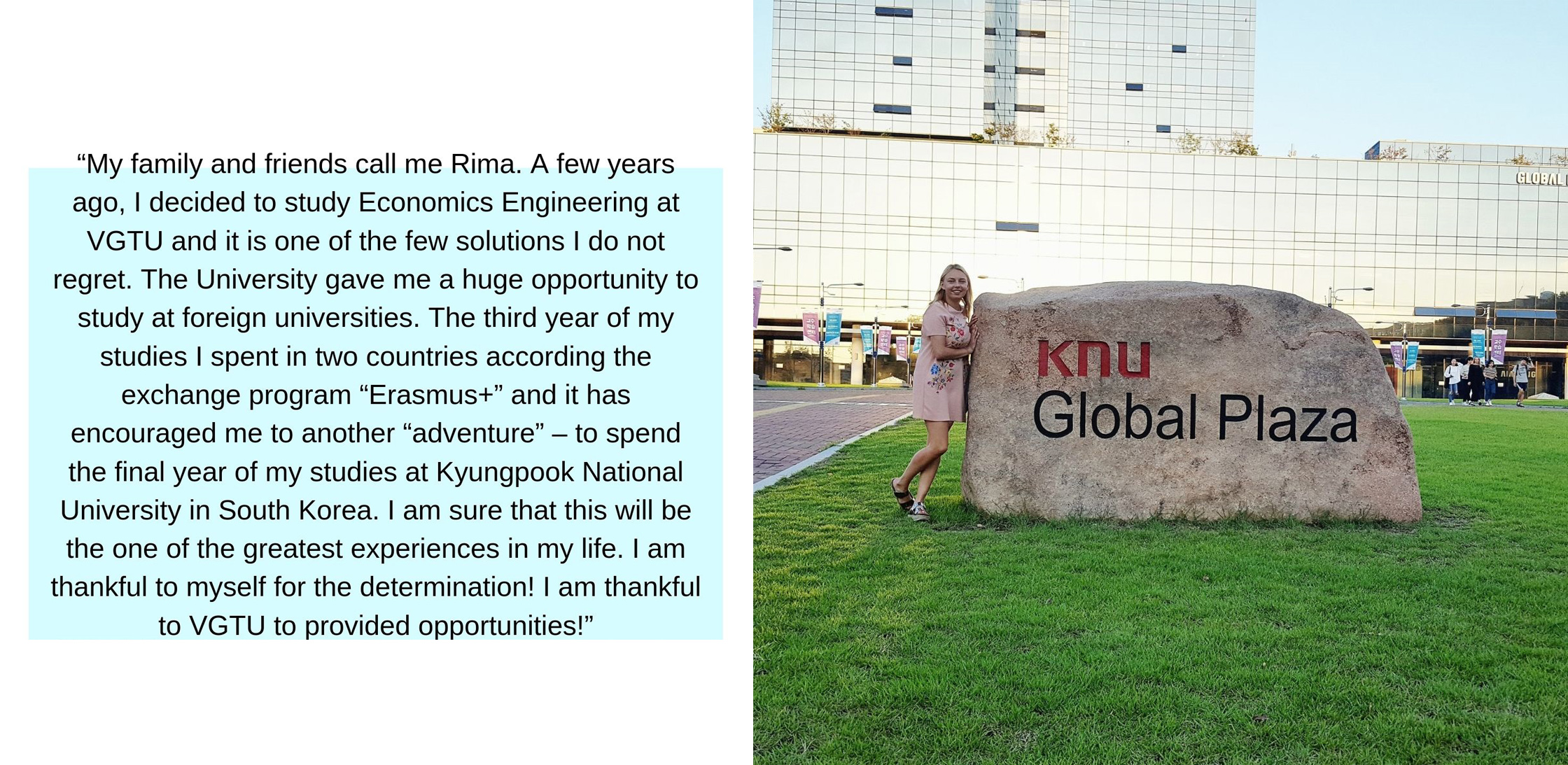 Page administrators:
Kristina Jodenytė
Salomėja Vanagienė
Agnė Vaiciukevičiūtė
Indrė Radvilaitė
Olga Stančik
Evelina Kairiūkštytė
Milena Medineckienė
Augustė Jablonskytė
Agnė Augustinaitė