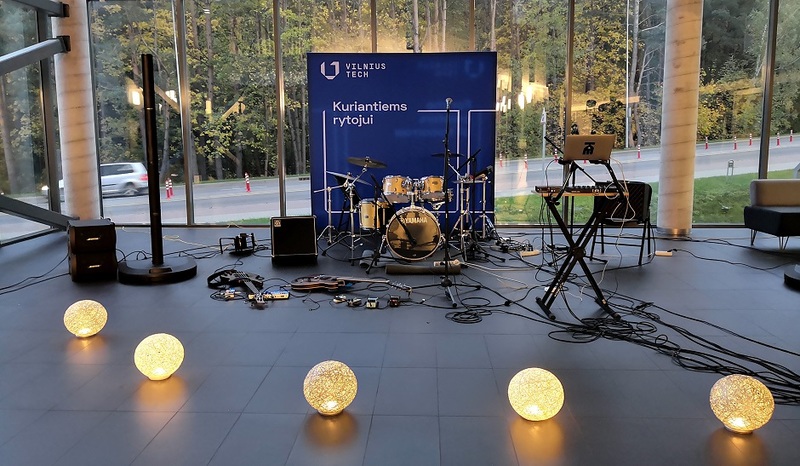 2020-11-11
Interview with a music band Kedrostuburas
Vilnius Tech had recently organised a concert on the 22nd of October 2020 featuring local band Kedrostuburas. I had the chance to interview one of their members - Giedrius Paliliunas about his insight on the event and the band.
The history of the band is quite interesting as it was only a group of school kids in different grades, having only the same gym in common! The school used to have ensambles with different activities of art and drama hosted often, this group used to be a prominent part of it as they used to cover and perform popular songs during the school events. This fun activity soon turned into something more as in summer of 2017 Kedrostuburas was born.
The name of the band is as fascinating as the band itself, it was created more due to need, as to have a name to book the recoding studio while the band rehearsed. The naming process best described in the words of Giedrius himself "Matas randomly without looking chose two words from different books, mixed them, changed the accent of word and we got some kind of magic word – Kedrostuburas."
There are 4 members in Kedrostuburas: Pijus – drums, Maksas – saxophone and keys, Matas – main vocals, guitar and keys and Giedrius – bass/keys and sometimes sound engineer.
The band focuses a lot on experimentation and creating different music, one of the ways they accomplish this is swapping instruments among the band members and due to this, the whole band can play the keyboard.
The band doesn't have one particular genre it can limit itself too. The best description of their music would be some kind of mix between alternative rock, jazz and electronic music. There is no actual word that could describe our music, so they like to term it as "Seawave" or "Windwhistle".
Their music is also available on most platforms, like Spotify, Youtube, Bandcamp, Apple music!
On the recently concluded concert Giedrius said "It was intersting experience for the band and I. I believe it was interesting experience for everyone who worked with this concert and for listeners. We had that 35 people limit, because of the pandemic, so it was kind of strange to play for such a small crowd, but at the same time it was very intimate and cozy. But first of all, the idea of concert was created by workers of Vilnius Tech Arts and Sports Center and band members. Then people from Vilnius Tech Orchestra and Creative Industries Faculty joined. We aranged the space for concert, sound systems, lights and had our bands last concert before quarantine."
As you can see Kedrostuburas is certainly very interesting and different from most bands, that's why I have found some fun facts about band and it's members that I hope everyone will enjoy -
One of them is vegetarian
All of them study specialties somehow connected to music
One of them have child of his own
In 2019 they released our debut album DEL and now we are working on some new music and hope to release second album in 2021.
One of them study in Kaunas
Kedrostuburas in english means Cedarspine
One of them gets up at 4 AM everyday.
The Vilnius Tech community and I surely will keep track of Kedrostuburas and hope to be able to attend another concert live soon as soon the pandemic is under control.
You can follow Kedrostuburas on
Facebook
and
Youtube.
Page administrators:
Eglė Radzevičiūtė
Justina Pleskevičiūtė
Raminta Kuktaitė
Augustė Jablonskytė
Solveiga Rusytė