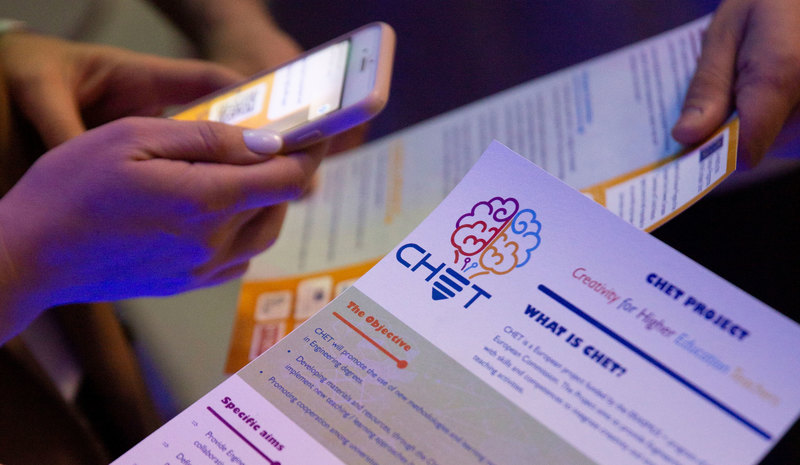 2020-10-15
VILNIUS TECH "LinkMenų fabrikas" hosted the first CHET project's multiplier event
Vilnius Gediminas technical university (VILNIUS TECH) Creativity and innovation centre "LinkMenų fabrikas" on October 14 hosted the first multiplier event of the Creativity for Higher Education Engineering Teachers (CHET) project. The event was held in compliance with all necessary personal protection requirements and measures.
The one-day multiplier event started with the VILNIUS TECH "LinkMenų fabrikas" director Dr Adas Meskenas' presentation on CHET project and its main activities. After the presentation, during the small tour, participants had a chance to stroll around VILNIUS TECH "LinkMenų fabrikas" premises. They also heard some stories about the creative projects which were born in VILNIUS TECH "LinkMenų fabrikas" workshops told by the project manager Dr Egle Girdzijauskaite.
Later on, the Vice-director of VILNIUS TECH "LinkMenų fabrikas", Dr Lina Peciure, held a presentation on Creativity in Lithuanian universities. Discussion on challenges integrating creativity and innovation in HE engineering education moderated by Dr Egle Girdzijauskaite followed the presentation. Finally, the CHET multiplier event ended with the creativity workshop coordinated by the VILNIUS TECH "LinkMenų fabrikas" team.
Therefore, participants of the multiplier event – teachers, professors and other stakeholders, had a chance to become familiar with the CHET project and its activities. Participants also discussed and highlighted problems related to creativity in HE engineering education and participated in a creativity workshop, which has been organized not only to foster the usage of the creative and innovative tools in teaching activities but to expand participants' creativity as well.
CHET project aims to address Technical Higher Education Teachers, with the skills and competences to embed innovation and creativity in their teaching activities. The project is co-funded by the Erasmus+ Programme of the European Union.
Page administrators:
Eglė Girdzijauskaitė
Adas Meškėnas
Lina Pečiūrė
Augustė Jablonskytė
Monika Grinevičiūtė