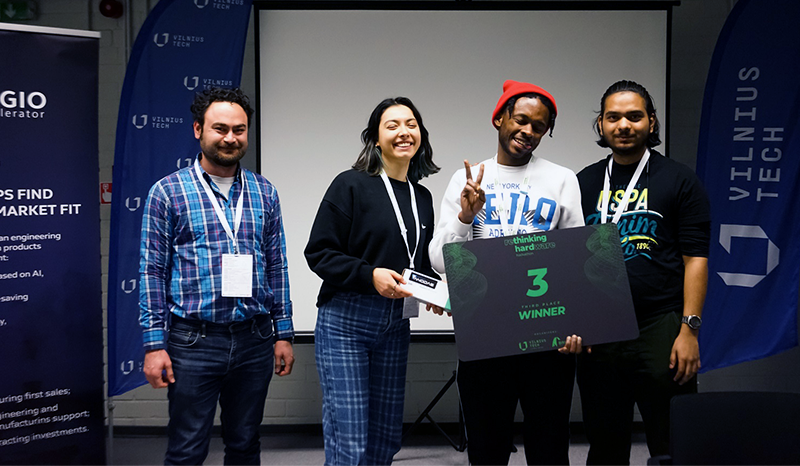 2023-03-07
The hackathon "Rethinking Hardware 2.0" returns with sustainability challenges
Just a few months after the technical creativity hackathon "Rethinking Hardware" roared by, the new edition of it returns to the Vilnius Gediminas technical university (VILNIUS TECH) Creativity and Innovation Center "LinkMenų fabrikas". The startup accelerator "Bridgio Tech Accelerator" and VILNIUS TECH "LinkMenų fabrikas" invite engineering students, startups, technical creativity enthusiasts, and engineers who want to direct their created technologies to achieve the United Nations' sustainable development goals to join the "Rethinking Hardware 2.0", which will take place on March 31 - April 2, 2023.
Hackathon - solving sustainability challenges
"Rethinking Hardware 2.0" focuses on the United Nations' Sustainable Development Goals (SDGs) and impact-creating technologies. The main topics that participants will address in solving challenges are as follows: technical equipment solutions for sustainable agriculture (SDG2); accessible and sustainable energy solutions (SDG7); technical equipment solutions for sustainable cities (SDG11), sustainable transportation and sustainable settlements.
During the "Rethinking Hardware 2.0" hackathon, participants can solve their own challenges related to the hackathon's topics or solve a challenge chosen from the organizers' list. The solution developed must be related to technical equipment, and the solution should help achieve sustainable development goals; moreover, its positive impact should be measurable.
Hackathon prizes
The hackathon prize pool amounts to 4000 euros, and the first-place winners will receive a 1500 euro cash main prize, a one-month membership in the "Tech Zity" community at the "Tech Arts co-working" space, and prizes established by partners "HubSpot".
"The hackathon "Rethinking Hardware," which took place at VILNIUS TECH "LinkMenų Fabrikas" in December, attracted participants from various fields, who together presented 11 functioning prototypes. This time, we aim to double the number of participants and invite our university students to join this three-day event and solve hackathon challenges with technology professionals. We promise an unparalleled experience, where so many different areas and profiles of specialists and creators will gather under one roof, united by a common goal - to innovate and create a positive social, economic or environmental impact," - says Greta Markūnaitė, Head of Creativity Laboratory at VILNIUS TECH.
The event is free of charge. During the event, participants will work in the creative spaces and workshops of VILNIUS TECH LinkMenų fabrikas. The event will be held in English.
To register for the hackathon, click
here.
Registration is open until March 28. Sign up now and start your work with mentors before the hackathon!
For more information about the hackathon, click
here.
The hackathon is supported by "Ignitis Grupė", "OneSoil" and Gamybos inovacijų slėnis. Hardware partners: "Promwad Electronics", "Lemona electronics", "Softeq", "Nano Avionics", and "Arrow Electronics". Educational partner – HubSpot. Hardware community: "Tech Zity", "Hardware Ecosystem", "Technarium".
Page administrators:
Greta Markūnaitė
Monika Grinevičiūtė
Lina Pečiūrė