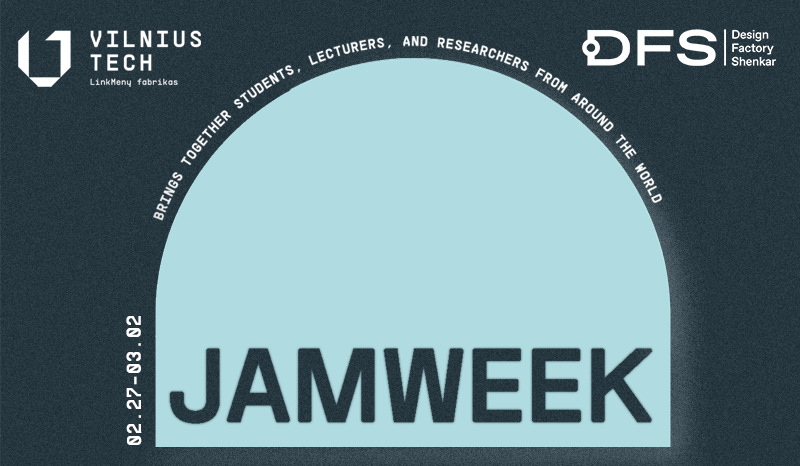 2023-01-26
VILNIAUS TECH "LinkMenų fabrikas" invites students to take part in a hackathon tackling climate change
We are excited to invite you to participate in JAMWEEK, an annual event at Shenkar that brings together students, lecturers, and researchers worldwide to work on real-world challenges.
This year's JAMWEEK will take place between February 27 and March 2, 2023, focusing on challenges and solutions for mitigating and adapting to climate change.
In JAMWEEK, you will work in international and interdisciplinary teams consisting of students from design, engineering, art, and other fields using the design-thinking sprint methodology. There will be over 750 participants, some joining the event through zoom and others collaborating in person at Shenkar college and VILNIUS TECH.
Each day will take place between 9:00 am and 4:00 pm in Zoom, while there will be an option to participate in evening times (the hours may change depending on time zones).
Jamweek will address real-world challenges from diverse topics from the industry, such as assessments for extreme climatic events, recycling, textiles, construction, desert tech, and more. This is a unique opportunity for you to be a part of an international learning experience, working in multicultural teams and being exposed to critical global issues. You will also have the chance to influence the global agenda through practitioner-academic collaborations and develop innovative solutions to address climate change and sustainability.
Take advantage of this exciting opportunity to be a part of JAMWEEK and positively impact the world.
We hope to see you with us!
Sign up here!
Page administrators:
Greta Markūnaitė
Monika Grinevičiūtė
Lina Pečiūrė