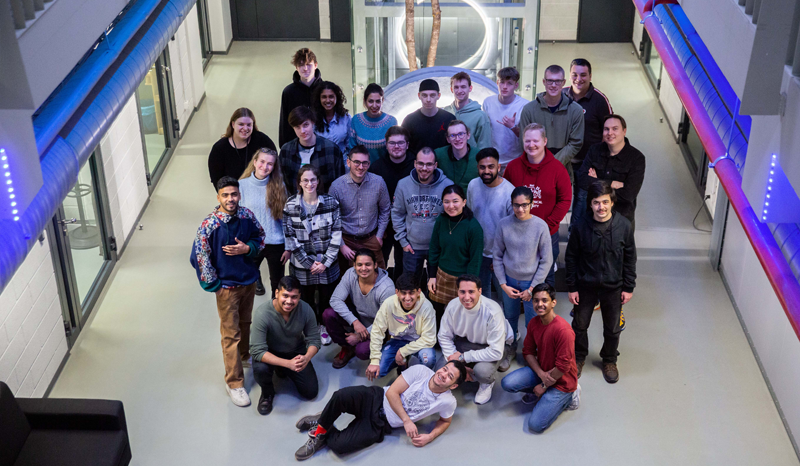 2023-01-31
Winter School MAKERS 5.0 has started – 30 students from European countries will improve their prototyping skills
This week is an exceptional one at the Vilnius Gediminas Technical University (VILNIUS TECH) Creativity and Innovation Centre "LinkMenu fabrikas" – the physical part of the Erasmus+ Blended Intensive Programmes (BIP) "MAKERS 5.0." has started. The first week of the programme began virtually – from 23 to 27 January, students worked and listened to lectures in the virtual space.

International Winter School "MAKERS 5.0." aims to increase students' competencies and broaden their international experience through innovative teaching methods. This winter school programme is structured so that students learn the basics of 3D modelling and electronics, as well as product design and idea pitching. At the end of the Winter School, students will present prototypes of the products they have developed together with their teams. Students from Latvia and ATHENA Alliance universities in Portugal, Greece and Italy take part in the Winter School. Students from VILNIUS TECH also participates.

The lectures and classes are given by the specialists of VILNIUS TECH "LinkMenu fabrikas" and VILNIUS TECH lecturers. Students who have attended and participated in all project activities will be given 3 ECTS credits. The students' product prototypes and ideas will be presented this Friday, 3 February, at VILNIUS TECH's "LinkMenu fabrikas" space.

Page administrators:
Greta Markūnaitė
Monika Grinevičiūtė
Lina Pečiūrė