About Faculty
The Faculty of Civil Engineering is one of the largest faculties at Vilnius Gediminas Technical University – it has more than 1,000 students studying there.
The faculty proposes study programs in first, second and third cycle in Civil Engineering and related fields. In 2022, admission will take place in four first-cycle and seven second-cycle study programs.

Researchers of the Faculty of Civil Engineering of VILNIUS TECH carry out various theoretical and experimental researches, cooperating intensively and in various ways with representatives of business and society. The faculty employs more than 100 researchers, thanks to which Vilnius Gediminas Technical University is energetic and competitive in the field of research. The modern research base used by the faculty and the highly qualified academic staff make it one of the best science and study centers in the field of civil engineering in Europe.

Following the publication of the results of the international university ranking QS World University Rankings by Subject 2022, Vilnius Gediminas Technical University has received even greater recognition in the field of Engineering and Civil Engineering and currently ranks 201–220th. Having established itself among the 200 best universities in the world in this field of science, VILNIUS TECH is the only Lithuanian university to be in the top 100 of this ranking in all fields and has achieved such high indicators.

The faculty can be proud of its more than 60 years of experience in training construction professionals, during which time more than 20,000 graduates have graduated from the Faculty of Civil Engineering.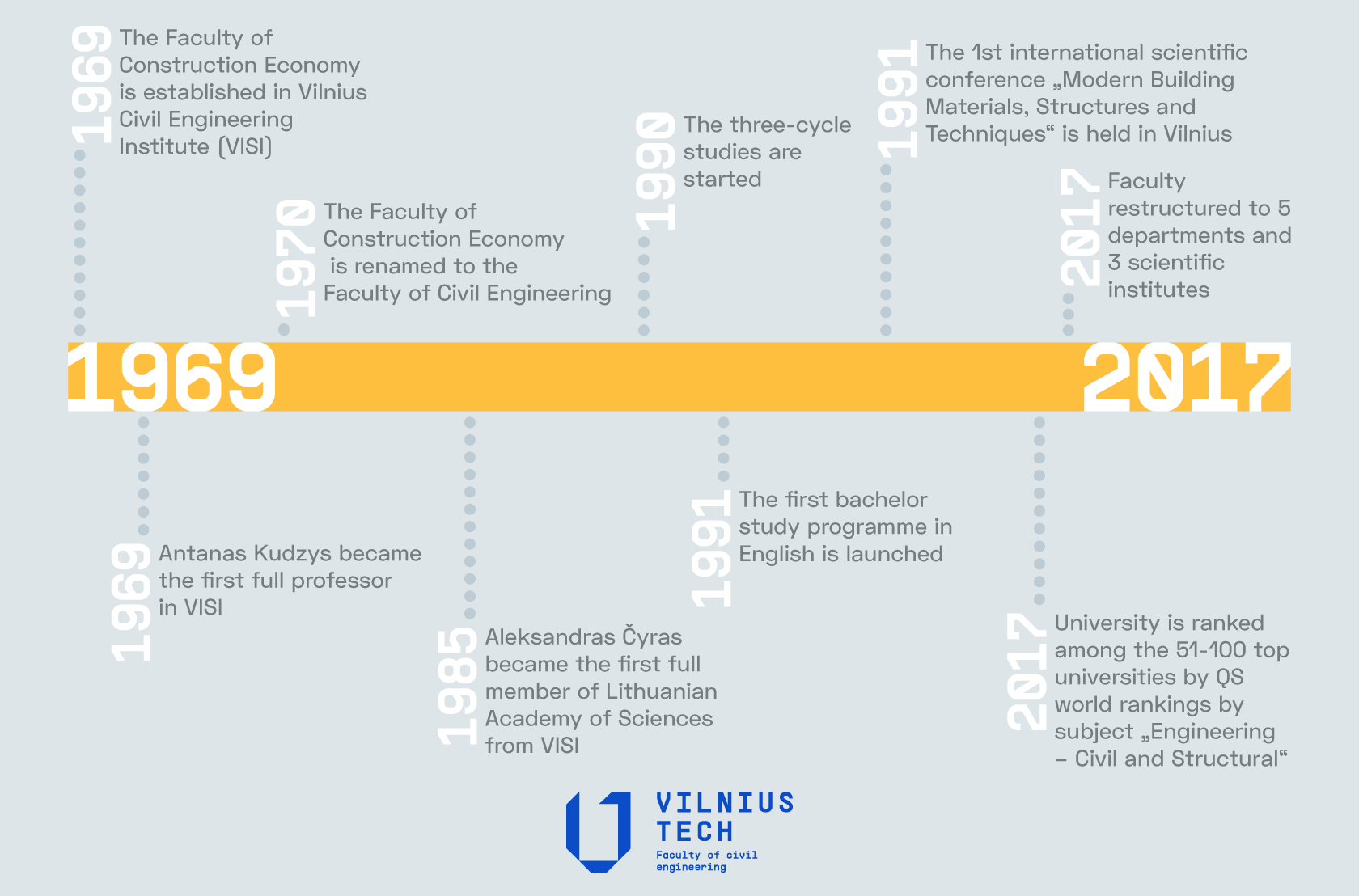 History of Faculty
1922 - the faculty originates from the Vytautas Magnus University, founded in Kaunas

1940 - the Faculty of Construction was established at Kaunas Polytechnic Institute

1969 - the faculty was moved to Vilnius and has been operating successfully since then:

in Vilnius Engineering Construction Institute (VISI),

which later became Vilnius Technical University (VTU),

and later Vilnius Gediminas Technical University (VGTU),

under the new brand name VILNIUS TECH.
Page administrators:
Loreta Kanapeckienė
Sotera Babrauskytė
Monika Bissekerskaja