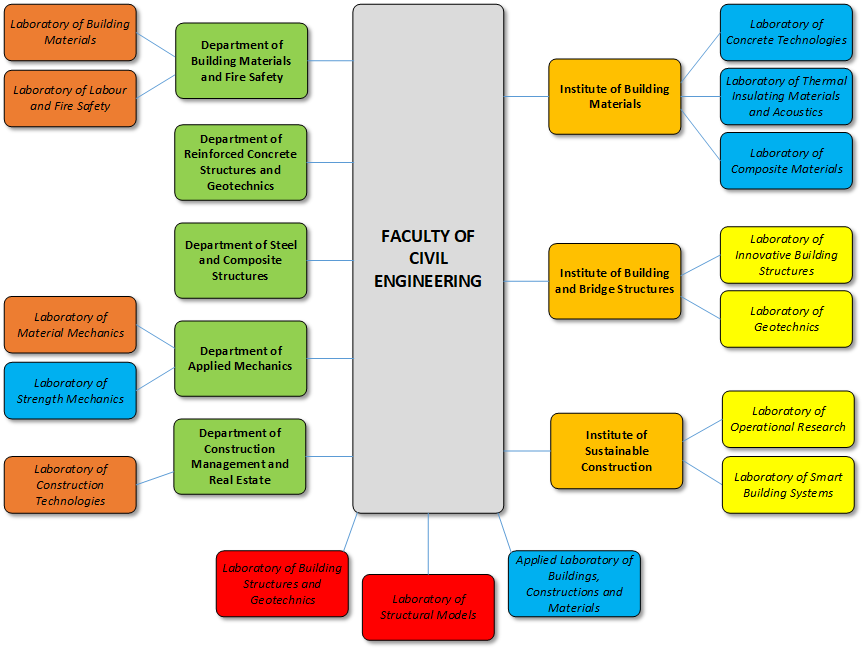 Structure of the faculty
There are 5 departments in the Faculty of Civil Engineering. Some of the departments include educational laboratories. Also there are are 3 research institutes, which include 7 research laboratories. 3 laboratories are outside the institutes. Some laboratories are accredited. Administration of the faculty include the dean, vice-deans and faculty council.
The general organizational structure of the faculty is shown in the graph above.
Departments
Department of Reinforced Concrete Structures and Geotechnics
Department of Building Materials and Fire Safety
Department of Applied Mechanics
Department of Steel and Composite Structures
Department of Construction Management and Real Estate
Institutes
Institute of Building and Bridge Structures
Institute of Building Materials
Institute of Sustainable Construction
The central administration of the faculty consists of the dean with the vice-deans and the faculty council.
Faculty Council
The Faculty Council is the collegial management body of the Faculty, formed and operating in accordance with general faculty regulations approved by the Senate. The Council of the Faculty of Civil Engineering currently has 17 members.
The Faculty Council discusses and makes decisions on the organization of studies and research activities, economic activities, strategic development, quality management, changes in study programs, the efficiency of the activities of the faculty units and other relevant issues. The Council also submits proposals to the University Council, the Senate and the Rector regarding the granting of pedagogical titles, changes in the structure of the faculty, and the candidacy of the Dean.
Faculty Council Members

Ritoldas Šukys

Chairman of the Council, Department of Building Materials and Fire Safety

Jolanta Tamošaitienė

Vice chairman of the Council, Institute of Sustainable Construction

Remigijus Šalna

Dean of the Faculty

Valentin Antonovič

Institute of Building Materials

Darius Bačinskas

Department of Reinforced Concrete Structures and Geotechnics

Tomas Gečys

Department of Steel and Composite Structures

Artūras Kaklauskas

Department of Construction Management and Real Estate

Arnoldas Norkus

Department of Reinforced Concrete Structures and Geotechnics

Saulius Raslanas

Department Construction Management and Real Estate

Gediminas Blaževičius

Department of Applied Mechanics

Gintautas Skripkiūnas

Department of Building Materials and Fire Safety

Arnoldas Šneideris

Department of Reinforced Concrete Structures and Geotechnics

Jonas Šaparauskas

Department Construction Management and Real Estate

Zenonas Turskis

Institute of Sustainable Construction

Juozas Valivonis

Department of Reinforced Concrete Structures and Geotechnics

Sigitas Vėjelis

Institute of Building Materials

Viltė Tamašauskaitė

Students' Representative
Page administrators:
Loreta Kanapeckienė
Sotera Babrauskytė
Monika Bissekerskaja