About faculty
In 1993, the Vilnius Gediminas Technical University (VILNIUS TECH) was at the forefront of higher education in Lithuania, being one of the first universities to introduce business management as a field of study. It was also the first university in the country to establish the Faculty of Business Management. Today, the faculty is celebrating its 30th anniversary and is proud to have helped more than 10,000 alumni successfully establish themselves in the labor market.

The Faculty of Business Management is committed to becoming a modern, innovative institution that fosters partnerships between students, lecturers, employers, graduates, and other stakeholders. The goal is to become a leader among business schools in the Baltic region, where science, studies, business, and innovation are seamlessly integrated.

Over the years, the Faculty of Business Management has grown and evolved, constantly renewing itself to offer innovative programs and research opportunities. Today, over 1,600 students from 43 countries study at the faculty, and there are more than 120 academic and administrative staff members working in five departments and a research institute. The faculty offers three levels of studies – bachelor's, master's, and doctoral – and has ten study programs available in Lithuanian and English, with opportunities for students to obtain double diplomas from universities in South Korea, France, and Ukraine.

As the Faculty of Business Management continues to integrate into the international academic and scientific communities, it remains committed to educating highly qualified, socially responsible, creative, and innovative specialists in the fields of business, management, and economics.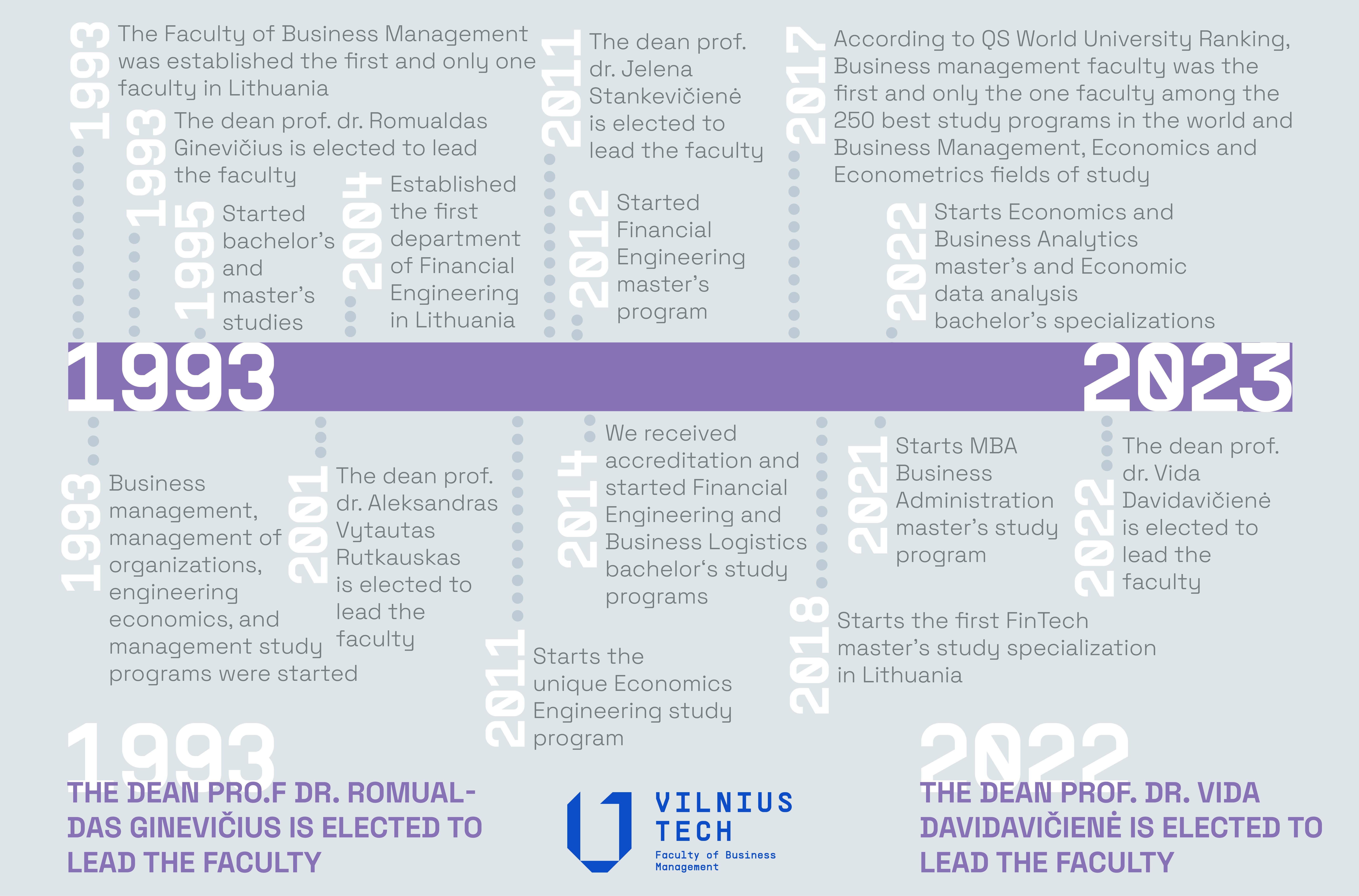 History of the Faculty of Business Management
1993 – The first Faculty of Business Management in Lithuania was established, with Prof. Dr. Romualdas Ginevičius as its first head.
1993 – The faculty introduced its first programs in Business Management, Organizational Management, Engineering Economics and Management.
1995 – Bachelor's and Master's studies in English were initiated.
2001 – Prof. Dr. Aleksandras Vytautas Rutkauskas took over as the head of the faculty.
2004 – The faculty established the only Department of Financial Engineering in Lithuania.
2011 – Prof. Dr. Jelena Stankevičienė starts serving as the head of the faculty.
2011 – A unique bachelor's degree program in Economic Engineering was launched.
2012 – The Master's program in Financial Engineering was introduced, building on the popularity of the specialization.
2014 – The faculty launched its Bachelor's study programs in Financial Engineering and Business Logistics.
2018 – The first Master's specialization in FinTech studies was offered in Lithuania.
2021 – The Business Administration MBA program was introduced.
2022 – New specializations in Master's studies in Economics and Business Analytics, as well as Bachelor's studies in Economic Data Analytics, were started.
2022 – The faculty is currently led by Prof. Dr. Vida Davidavičienė.
Page administrators:
Karolina Kardokaitė
Jurga Vestertė
Monika Bissekerskaja