Department of Automobile Engineering
Have any questions?
Please contact us
Phone +370 5 274 4790
E-mail
crypt:PGEgaHJlZj0ibWFpbHRvOnRpYWlAdmlsbml1c3RlY2gubHQiPnRpYWlAdmlsbml1c3RlY2gubHQ8L2E+:xx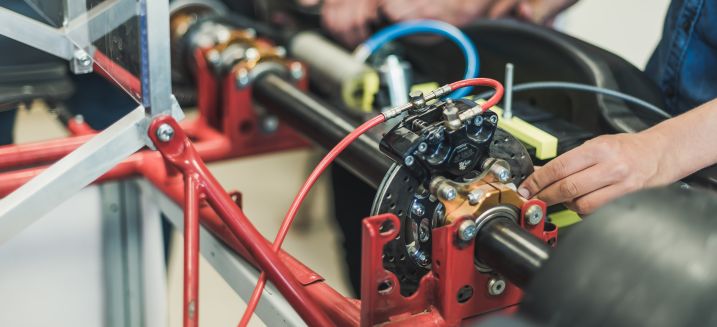 Department of Automobile Engineering
Department of Automotive Engineering (DAE) is a subdivision of VILNIUS TECH Transport Engineering Faculty which is specialized in preparation of highly qualified engineers who would disclose their creativity and engineering-like way of thinking by excelling in practical applications of their scientific potential.
VILNIUS TECH pursues to foster highly qualified and prepared specialists, who would ensure the smooth functioning and development of transport sector and thus apply their scientific experience in practical activities.
The central areas of research in the DAE are as follows: improvement of road vehicle maintenance and reliability, automobile dynamics and examination of road traffic safety as well as traffic accidents.
DAE is responsible for organization of first and second cycle studies – (mode of studies - continual, extended). Extended studies for college graduates are being organized in collaboration with other Departments of Transport Engineering Faculty.
The specialization of Automobile transport was selected and successfully completed this year by 150 bachelor and master level graduates. Upon completion of their studies young specialists are ready to proceed with their careers in bussiness entities, public institutions or pursue for doctoral degree.
Studies at the University provides an opportunity to implement engineering solutions and creativity. The most prominent project of the DAE - electromobile, a joint creation of students and lecturers. The latest project being developed – automobile sliding system – offers new possibilities for complex behavioural research.
DAE expands scientific research areas by annually updating the equipment and capacity of laboratory; develops international academic relations as well as fosters institutional cooperation with business entities and public establishments.
Young and enthusiastic staff of the Department is well prepared for Professional and creative work with each devoted and ambitious student. The staff of the Department will also guide young professionals in finding their own ways in academic or practical automobile transport engineering.
HISTORY
In 1944. Reopened and reformed Kaunas State University is supplemented by Department of Transport and Machinery.
The main specialty of Automobile Operations was established in addition to Rail, Water and Air Specialties. The first Transport and Machinery diplomas were issued in Kaunas State University in 1946.

In 1950. Upon re-organization of Kaunas State University, the title of Department of Transport and Machinery was changed into Department of Automobiles and transferred to Kaunas Polytechnic Institute (KPI).
Lecturers of the Department of Automobiles (Kaunas Polytechnic Institute): L. Gastila (1944–1970), K. Lukoševičius (1950–1970), V. Drozda (1954–1970), R. Brazys (1957–1970), A. Mikulskis (1961–1964), J. Jurgaitis (1962–1970), R. Žeromskas (1963–1970), J. A. Poviliūnas (1967–1970).
In 1944 the appointed heads of the Department - T. Balčiūnas (1944–1945 ir 1947–1948), general I. Barzda-Bradauskas (1945–1947), L. Gastila (1948–1964), K. Lukoševičius (1964–1976).
KPI Department of Automobiles organized two study programmes – Automobile Operations and Road Construction Engineering.
During the period of 1945–1970, 423 engineers graduated from the programme in Kaunas. Under the direction of L. Gastila there were 11 prepared and deffended candidate (present – Phd.) dissertations, two of them from Tallinn Polytechnic Institute.

In 1956. Established Vilnius Evening Division rapidly transformed into the Faculty and after five years gained the status of KPI Vilnius Branch.

In 1960. The beginning of Automobile Opearations Engineering study programme.
The first lecturers of Automobile Engineering were Z. Klimavičius, T. Narbutas, A. Butkus, A. Lašas ir A. Norvaišas. First engineers to be awarded with graduates of Automobile Transport diploma (1963).

In 1969. KPI Vilnius Branch was restructured into Vilnius Civil Engineering Institute (VISI).

In 1970. Transference of the department from KPI to VISI resulted in contemporary title – Department of Automobile transport.
From the very beginning there were 2 academic groups of Automobile Transport Engineering. Later on, the increased number of students resulted in 4 full-time, 1 part-time and 1 extramular studies' academic groups. The Department was responsible for organization of Automobile Operations and Road and Construction Machinery Engineering study programme.

In 1990 October 31, by the decision of the Lithuanian Supreme Council, Vilnius Civil Engineering Institute became Vilnius Technical University (VTU). On 1996 The Lithuanian Government adopted a resolution on awarding Vilnius Technical University the name of an ancient Grand Duke Gediminas and naming it Vilnius Gediminas Technical University.
Due to growing demand for Railway and Air Transport Engineers, Department of Automobile Transport started to qualify Railway transport, Aircraft and Engine maintenance Engineers. The Renamed Department of Transport Machinery qualified the first engineers of the mentioned specializations. Heads of the Department are as follows - V. Tilindis (1976–1981), M. Nemira (1981–1986), A. Pikūnas (1986–1996). The academic staff was supplemented by L. Gastila, K. Lukoševičius, R. Žeromskas, J. Poviliūnas, R. Brazys, J. Jurgaitis ir A. Stanulis, A. Butkus, Z. Klimavičius, A. Lašas, M. Nemira, O Lukoševičienė, V. Tilindis, L. P. Lingaitis, S. Šimakauskas, A. Pikūnas.

In 1994. The Faculty of Transport Engineering was founded. The first appointed Dean – R. Žeromskas – professor of the Department of Automobile Transport. The faculty comprised Departments of Automobile and Rail Transport along with A. Gustaitis Aviation Institute.
Department of Automobile Transport is responsible for organization of first, second and third (Phd.) cycle studies of Transport Engineering.
Present staff of the Department: A. Butvilas, V. Valiūnas, K. Olšauskas, S. Karosas, V. Bartulis, R. Subačius, V. Ivanovas, J. Jurevičius, M. Bogdevičius, G. Medeišis, V. Mickūnaitis, S. Petkevičius, A. Šerkšnas, N. Lukoševičienė, A. Aleksiejūnas, Untulis, V. Jovaiša, G. Bureika, S. Pukalskas, G. Garbinčius, R. Pečeliūnas, S. Nagurnas, A. Ambrazevičius, L. Zubavičius. Appointed heads of the Department: O. Lukoševičienė (1996–2000), A. Pikūnas (2000–2007) and S. Pukalskas (from 2007 - present).

In 2006. The road users laboratory of psychophysiology was established.
The field of DAT research was successfuly extented by new laboratory. One of the main initiator, active researcher appointed head of laboratory - Zenonas Bogdanovičius - doctor of DAT.

In 2012. The fully electric car was designed and emplemented.
Originated from students' initiative and created by joint efforts of students and lecturers. The DAT electric car was one of the first successful attempts to create a fully electric car in country.

In 2014. The skid-car system created.
Skid-car system simulating vehicle slip was designed and implemented by young professionals of DAT and means an important research unit of newly established laboratory.

In 2014. The traffic safety laboratory was established.
Laboratory includes tests and research of driver and vehicle behavior and various dynamic characteristics. The first SEL head appointed its' initiator - Vidas Žuraulis - PhD and researcher of DAT.

In 2015. The DAT students initiated the new brand project in university - "VGTU Formula Student Racing Team".
This is a team of young engineering enthusiasts that unites 6 faculty students for the common goal - the creation of an electric formula car and their willingness to take part in the Formula SAE Student competition.

In 2016. The department starts developing new field of science - autonomous car management systems.
Steering wheel and brake pedal control robots are created. Paulius Skačkauskas is working on this new field with preparing the dissertation theme "Development and modeling of Adaptive Autonomous Vehicle Management System".

In 2017 July 01. Department of Automoblie Transport (DAT) became Department of Automotive Engineering (DAE).

Having changed the title for several times during the period of its existence - 1945 and 2017 (respectively), The Department qualified over 4100 students at all levels.
The academic community of the Department remains an active participant in significant contributions to diverse changes in transport sector, traffic safety advances, as well as promoting innovations.
STUDIES
Automotive Transport Engineering.

The automotive industry is one of the largest and most important industries in the global economy.
Engineers in this field work in a variety of industries. They not only design, develop and manufacture cars, but also participate in their safety testing, improve the appearance of vehicles or look for ways to reduce pollution.
Nowadays, much attention is paid not only to the speed of the car, but also to its sustainability, the integration of advanced modern technologies, as well as the development of alternative energy vehicles.
Advances in technology and the search for more environmentally friendly and safer alternatives are causing the transport sector to change dramatically, and professionals in this field are in demand worldwide.
Graduates of this specialization will be familiar with automotive theory, construction, design, and operation.
Such specialists will be able to perform accident analysis, have knowledge of road traffic organization and management, will be able to model, analyze various engineering processes, develop various engineering systems or improve technologies, research and solve problems related to car design and operation.
RESEARCH AND INNOVATION
Department of Automotive Engineering (DAE) is an active member of Automobile Transport Engineering Science which fosters traditions and values in this area; Department aims to contribute to development process of advancements in our country. The possibilities created here range from Innovative Engineering Solutions, Idea-Generation to Project implementation and international collaboration.
Considering the importance of Global Energy Saving and Resource Reduction Policy, Situation of Road Transport and Traffic Participants, DAE aims to maintain a broad spectrum of interests within Automobile Transport Engineering Science by concentrating scientific-research activities in accordance with four priority areas:
energy-saving and environment-friendly vehicle
transport systems and traffic simulation, optimization, safety and management
new movement technology, intelligent transport systems
To ensure the processes of scientific activities and studies, our scientists and researchers work with a unique laboratory equipment and computer-modelling programmes, which are used for specific research, experiments and provision of services to Business entities. Annually strenghtened laboratory base allows to maintain an intensive, high level scientific research and study process.
CONTACTS
doc. dr. Saugirdas Pukalskas
Head
Mobile +370 655 29 573
E-mail
crypt:c2F1Z2lyZGFzLnB1a2Fsc2thc0B2aWxuaXVzdGVjaC5sdA==:xx
Vilija Pečeliūnienė
administrator
Phone +370 5 274 4790
Local phone 9790
E-mail
crypt:dmlsaWphLnBlY2VsaXVuaWVuZUB2aWxuaXVzdGVjaC5sdA==:xx
Page administrators:
Lijana Maskeliūnaitė
Rasa Prentkovskienė
Dominykas Eičinas
Monika Bissekerskaja