About department
Institute of Geodesy was established by resolution of Scientific Council of Vilnius Technical University on January 29, 1992.
Activities of Institute of Geodesy are mostly related to establishment of National Geodetic Reference and solution of related scientific problems.
To take part in activities of Institute of Geodesy are invited teachers of Department of Geodesy and Cadastre, PhD and Master Degree students, students of Geodesy speciality and specialists of production organisations. Some activities are performed in close cooperation with specialists from abroad.
Temporary groups are created for research and supervisors, qualified contractors and consultants are selected.
Calibration laboratory was established at the Institute in January 31, 2000. Calibration laboratory was awarded with accreditation certificate by Lithuanian National Accreditation Bureau in 2001. Scope of accreditation – Calibration of EDM instruments and testing of portable distance meters.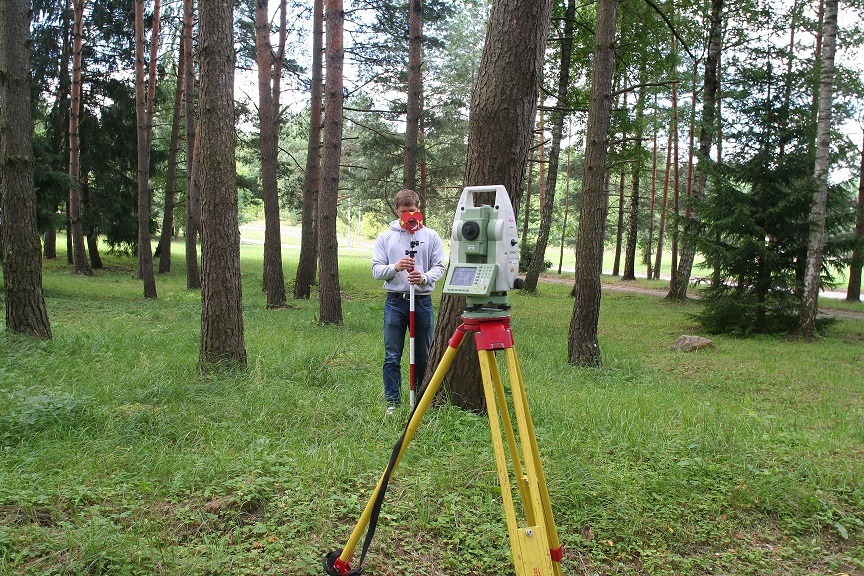 Calibration and verification of the EDM instruments and total stations
Establishment of geodetic reference by the GPS
Gravity observations and gravimetric survey
Geomagnetic field survey
Observation of horizontal and vertical deformations and tilts of the buildings and constructions
Methodical and technical support for the companies and organizations in applying modern technologies of geodetic observations and data processing
Creation of digital and analogical topographic maps and plans
Survey of underground communications
Preparation of cadastral plans
Setting out of constructions of different complexity
Expertise ordered by courts on land cadastral issues
Ground-based laser scanning
Determination of geomagnetic field parameters
PERMANENT COOPERATION WITH:
Institute of Geodesy and Cartography (IGIK) Warsaw, Poland, (1998)

VĮ Oro navigacija (2002)

Finnish Geodetic Institute (2003)

Institute of Geophysics, Polish Academy of Sciences (2005)

ETH Institute of Geodesy and Photogrammetry (IGP), Zurich, Switzerland(2006)
COOPERATION WITH THE FOLLOWING COMPANIES AND ORGANISATIONS
The National Land Service within the Ministry of Agriculture (Lithuania)

Ministry of Environment of the Republic of Lithuania

The State Enterprise National Center of Remote Sensing and Geoinformatics "GIS-Centras" (Lithuania)

Riga Technical University (Latvia)

University of Latvia

State Land Service (Latvia),

University of Tartu (Estonia)

Estonian Land Board (Estonia)

National Land Survey (Sweden)

Aalborg University (Denmark)

Federal Agency for Cartography and Geodesy (Germany)

The Institute of Geophysics of the Academy of Sciences (Poland)

Bialystok Technical University (Poland)

The University of Warmia and Mazury (Poland)

Warsaw University of Technology (Poland)

Southampton Solent University (the United Kingdom)

University of London (the United Kingdom)​​​​

National Metrology Institute (Korea)
Page administrators:
Evelina Zigmantienė
Marius Petniūnas
Egita Kamarevcevienė
Laura Ladietaitė
Augustė Jablonskytė
Agnė Augustinaitė