ATHENA European University alliance
Vilnius Gediminas Technical University (VILNIUS TECH) is a member of the
ATHENA European University alliance
.
Advanced Technology Higher Education Network Alliance (ATHENA) is one of the 44 transnational
European university alliances
supported by the European Commission and called to become the universities of the future, promoting European values and identity and revolutionizing the quality and competitiveness of European higher education.
ATHENA alliance partners - medium-sized universities from nine European countries: France, Germany, Greece, Italy, Lithuania, Poland, Portugal, Slovenia and Spain aim to accompany and shape the digital transformation of societies through joint teaching, learning, research and development in the IT and electronic engineering areas in particular while adopting a resolutely interdisciplinary approach.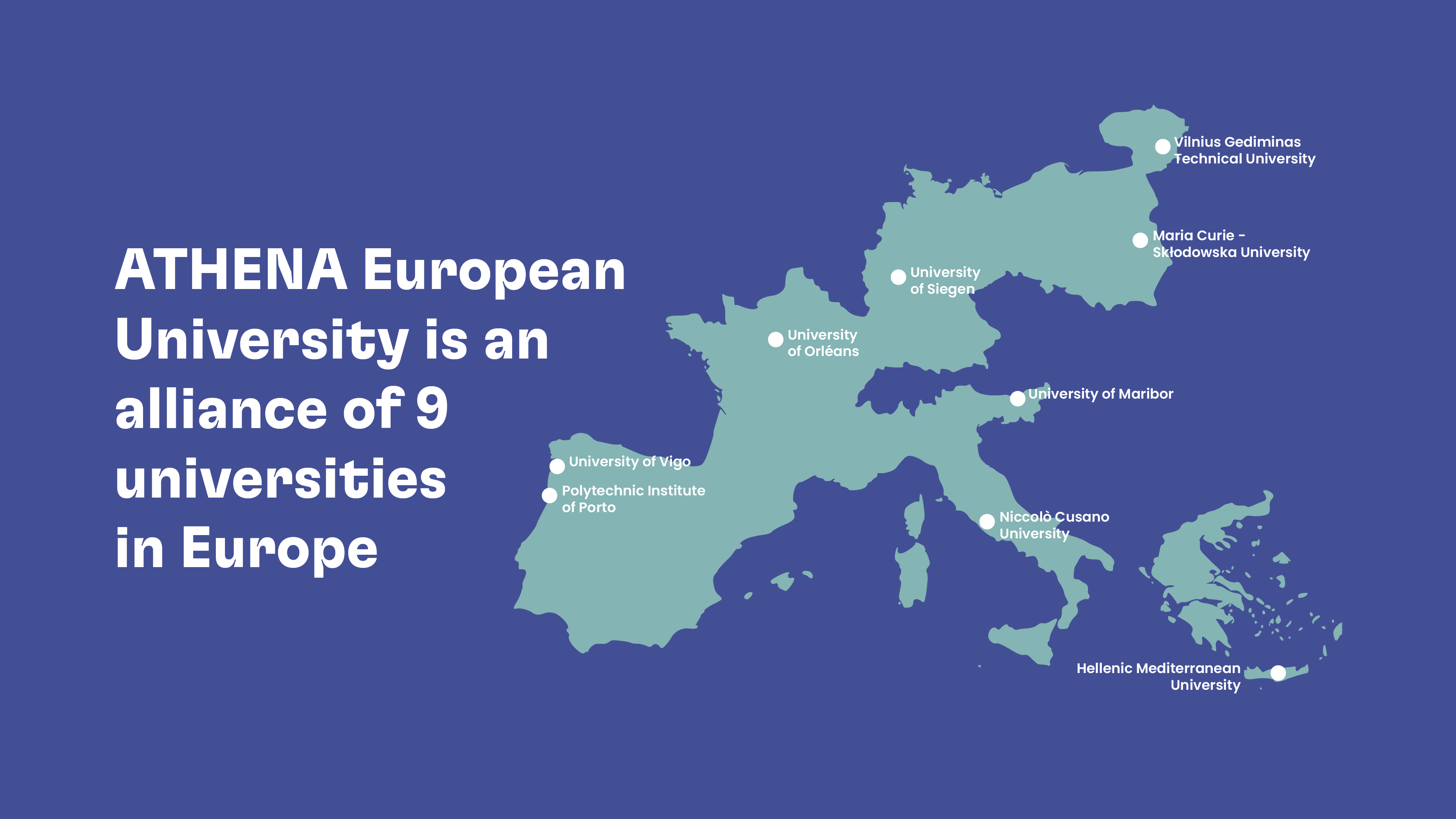 ATHENA undertakes to align activities with the EU policy and initiatives contributing to the transformative higher education and resilience against global crises by:
Ensuring open, inclusive, sustainable, interdisciplinary and multi-layered collaboration within the ATHENA ecosystem;
Sharing of and consolidating human, physical and intellectual resources;
Creating a sandbox for testing new ideas and modes in a friendly and engaging environment;
Providing high-quality services for international mobility of students and staff;
Generating a culture of cooperation to develop innovative ideas for the benefit of society.

ATHENA European University offers various ongoing opportunities for every member of the community – from students to staff! If you want to know more about these opportunities, check
ATHENA website.
ATHENA news and events
More news and information on ATHENA are provided at the alliance website
athenauni.eu.
Page administrators:
Margarita Kapčiuvienė
Mantė Taser
Kristina Lazickienė