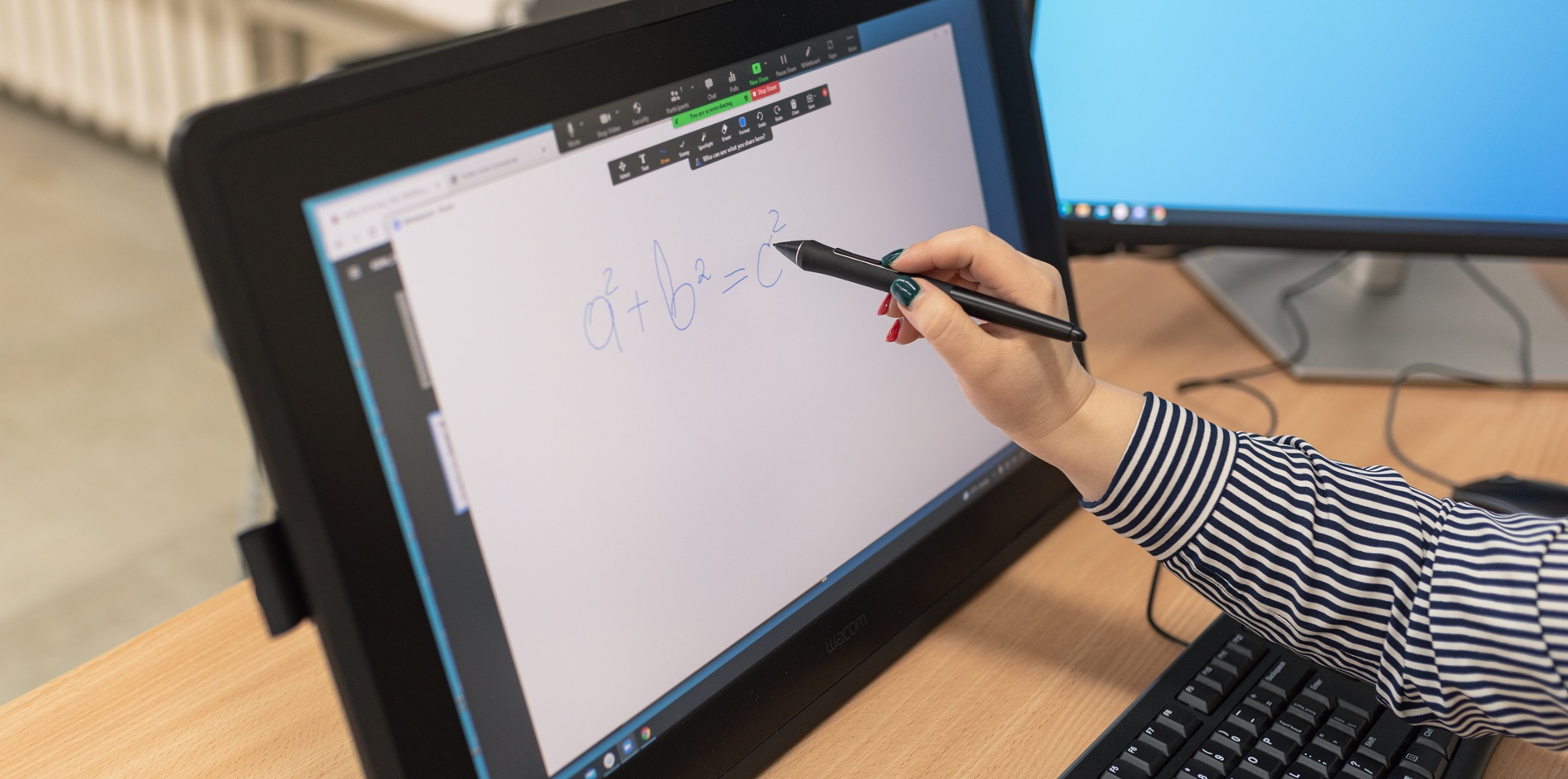 E-learning Group

Educational technology is an integral part of every modern university. It is hard to imagine learning wihout educational technology, whether it is face-to-face, distance, blended or hybrid learning.

The E-learning Group organises and delivers digital competence development training and consultancy for VILNIUS TECH lecturers, students and administrative staff. It also regularly develops and updates training materials for the Moodle Handbook course for academic staff. It also provides advice to students and non-academic staff when needed.

We help to overcome the challenges of using Moodle virtual learning environments, overlap-checking software, videoconferencing systems, as well as advising those looking for a range of other technological tools for organising classes and visualising learning materials.
Our team can advise you on a wide range of issues:
- How to create a test in Moodle environment, which will not only check the students' achievements but also prevent possible academic dishonesty;
- how to develop a Moodle course for distance learning;
- how to make effective use of the various Moodle resources and operational tools;
- how to make good use of the VILNIUS TECH overlap checking system;
- how to organise a remote class or a scientific conference in a secure way;
- how to organise a hybrid lecture efficiently, etc.

In our specialised teleworking classrooms, lecturers are not only invited to give lectures, participate in conferences or organise remote events, but also to produce and edit educational videos for students. To ensure the quality of e-learning, we are constantly taking care of the technical set-up and maintenance of these classrooms and updating the software. We advise lecturers who intend to approve their Moodle courses, and participate in the decision-making meetings of the approval committee.

We support lecturers running off-campus refresher courses by administering Moodle for external users. And for school students, together with teachers from the Faculty of Fundamental Sciences, we organise additional lessons in mathematics, physics and information technology to prepare them for matriculation exams.

We keep up-to-date with the digital world and learn on our own: at conferences, trainings, and experience-sharing events. We are members of the consortium for the support and development of the Lithuanian distance learning network LieDM, and VILNIUS TECH is currently the consortium's administering institution.
OUR TEAM
Aurelija Okunytė
Head of E-learning Group, Digital technologies specialist
Phone: (8 5) 274 5035
Local phone: 9035
Email:

crypt:PGEgaHJlZj0ibWFpbHRvOnZpZGEubmF2aWNraWVuZUB2aWxuaXVzdGVjaC5sdCIgdGl0bGU9InZpZGEubmF2aWNraWVuZUB2aWxuaXVzdGVjaC5sdCI+YXVyZWxpamEub2t1bnl0ZUB2aWxuaXVzdGVjaC5sdDwvYT4=:xx
Sigita Pagirienė
Chief digital technologies specialist
Phone: (8 5) 274 5035
Local phone: 9035
Email:

crypt:PGEgaHJlZj0ibWFpbHRvOnZpZGEubmF2aWNraWVuZUB2aWxuaXVzdGVjaC5sdCIgdGl0bGU9InZpZGEubmF2aWNraWVuZUB2aWxuaXVzdGVjaC5sdCI+c2lnaXRhLnBhZ2lyaWVuZUB2aWxuaXVzdGVjaC5sdDwvYT4=:xx



Jurgita Satkūnaitė
Senior digital technologies specialist
Phone: (8 5) 274 5035
Local phone: 9035
Email:

crypt:PGEgaHJlZj0ibWFpbHRvOmlsb25hLnZhbGFudGluYWl0ZUB2aWxuaXVzdGVjaC5sdCIgdGl0bGU9Imlsb25hLnZhbGFudGluYWl0ZUB2aWxuaXVzdGVjaC5sdCI+anVyZ2l0YS5zYXRrdW5haXRlQHZpbG5pdXN0ZWNoLmx0PC9hPg==:xx
Page administrators:
Eglė Dabulevičiūtė
Aurelija Okunytė
Elida Žalnieriūnienė
Kristina Lazickienė
Kristina Lazickienė