VILNIUS TECH dormitory
Students can choose to live in the University dormitory, private hostel or to rent apartment in the city.
Location
VILNIUS TECH international students dormitory is located on the university campus, it takes about 7-10 min walk to the building of administration of the VILNIUS TECH and faculties of Civil Engineering, Environmental Engineering, Business Management, and Fundamental Sciences. Faculties of Architecture, Electronics, Mechanics and Transport Engineering are located in the city center; A. Gustaitis Aviation Institute is located in Likmenų st. 28.
See VILNIUS TECH maps
here
.
Addresses
Dormitory No 6, Saulėtekio al. 39 A, Vilnius
Administrator: Jonas Rutkauskas,
e-mail:
crypt:PGEgaHJlZj0ibWFpbHRvOmpvbmFzLnJ1dGthdXNrYXNAdmlsbml1c3RlY2gubHQiPmpvbmFzLnJ1dGthdXNrYXNAdmlsbml1c3RlY2gubHQ8L2E+:xx
phone +370 692 20625
Reception phone + 370 5 269 8827
Dormitory No 1, Saulėtekio al. 25, Vilnius
Administrator: Vytas Pajenčekovskis,
phone +370 5 2745081
email:
crypt:PGEgaHJlZj0ibWFpbHRvOnZ5dGFzLnBhamVuY2tvdnNraXNAdmlsbml1c3RlY2gubHQiPnZ5dGFzLnBhamVuY2tvdnNraXNAdmlsbml1c3RlY2gubHQ8L2E+:xx
Prices of VILNIUS TECH Students' dormitories
The price for 1 person per 1 month is from 140 EUR to 240 EUR (in a double or triple room).
Deposit: 300 EUR, if you have not caused any damage, it will be repaid when leaving.
For the dormitory, you will have to pay in the bank in the first three days after your arrival.
Due to a large number of incoming students, we are not able to accommodate you in a single room.
Scheme of the room
Usually, it is a block, which consists of two double rooms, a hall, WC, shower, and a kitchen. There are a few blocks that contain one double room, WC, shower, and a kitchen.
Furniture
Each room is fully furnished with two beds, one desk, a little cupboard, a table, and two chairs. There is a sink, refrigerator, electric cooker and two dressers in every kitchen. There is a wardrobe in each room. There is a special work-room for architecture students.

Conditions of Life
Each person is provided with a blanket, pillow, pillowcase, sheet, and towel. Bedclothes are changed for cleaning every ten days, but in case of need, they may be changed more often. Rooms are cleaned two times a week. A guest may refuse the cleaning if he/she wants to take care by himself.
The water is drinkable in the dormitory.
The dormitory has central heating, each person cannot control it, the heating season starts usually in the middle of October each year and ends at the beginning of April.

Services
Meals are not included in the rent price. Students prepare their own meals in the common kitchen (two rooms share a kitchen). There is a café in the hostel, a grocery store, and a laundry close to the building. If there are any problems with electricity, water, locking, etc, a student should inform the receptionist and the problem will be eliminated.

Regulations
There is a receptionist in the dormitory 24/7. Inhabitants are expected not to have guests after 11 p. m. The dormitory is locked up at night. However, inhabitants are let in at night.
Private Accommodation
It is also possible to rent a flat in the city. The price for a 1 bedroom flat in the city is around 200-400 EUR per month though well furnished places tend to be more expensive.
The
ESN VILNIUS TECH
(Erasmus Student Network) team is very closely involved in helping students to find private housing.
Private Hostels
There is a variety of
private hostels
that students can choose according to their preferences and needs.
Some private hostels, like
Chapters
,
Corner Hotel
and
Green Hotel
are long-term accommodation oriented. Corner Hotel is situated close to the city center, close to faculties of Electronics, Mechanics and not so far away from Architecture faculty, which are not at the main university campus. Green Hotel is a bit farther from the old town yet a convenient hotel's location provides easy access to the city center.
Coliving spaces
In Vilnius you can find various coliving spaces that are suitable for students and young professionals.
SOLO SOCIETY - City House Vilnius
offers a 5% discount for VILNIUS TECH students (please refer that you are VILNIUS TECH students once booking).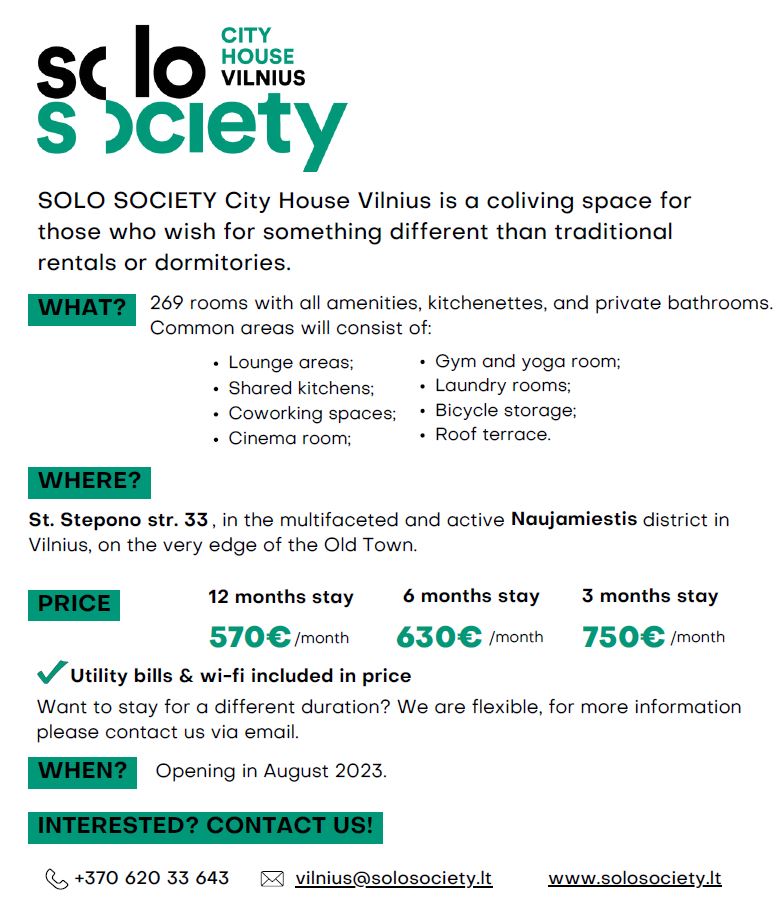 Page administrators:
Karolina Kalinauskaitė
Dovilė Jodenytė
Kristina Lazickienė