International staff week
International Staff Training weeks (ISTW)
at VILNIUS TECH are designed for colleagues working in the International Relations, Library, Media, Communication, IT and other departments. Every year you can take part in one of VILNIUS TECH International Weeks.
Contact:
Ms Rasita Martišė, Responsible for incoming and outgoing ERASMUS+ teachers:
E-mail:
crypt:PGEgaHJlZj0ibWFpbHRvOnJhc2l0YS5tYXJ0aXNlQHZpbG5pdXN0ZWNoLmx0Ij5yYXNpdGEubWFydGlzZUB2aWxuaXVzdGVjaC5sdDwvYT4=:xx
INTERNATIONAL STAFF TRAINING WEEK 2019
International Staff Week 2019
"All you need is ...INTERNATIONALISATION"

was held on 6-10 May, 2019 at Vilnius Gediminas Technical University in Lithuania. The event focused on internationalisation trends in higher education.
Participants of the ISW had an opportunity to:
Teach or train in the international and interactive learning environment.
Share valuable experiences and challenges of the University internationalisation.
Network with colleagues from the universities worldwide and gain intercultural competence.
Develop personal and professional skills related to the student and staff mobility.
Participate in a number of social and cultural events.
INTERNATIONAL STAFF TRAINING WEEK 2018
Vilnius Gediminas Technical University (VGTU)
INTERNATIONAL STAFF WEEK "ERASMUS+ GOES GLOBAL"
23-27 April 2018
Venue - VGTU Central building (lt. Centriniai rūmai), 1st floor hall (Saulėtekio al. 11, Vilnius)
Contacts:
crypt:c3RhZmZ3ZWVrQHZndHUubHQ=:xx
Feedback about this staff week:
You made our stay warm despite the cold weather, thank you VGTU.
Excellent atmosphere, great staff, hospitality – I liked these aspects aswell. Good Job!! Thank you for your warmth and professionalism
.
Very nicely organized event! The topics covered were well thought of.
International office provided all the required information and help throughout the selection as well as program days.
Strongly recommend to others (partner countries).
I chose this staff week because of the programme and had high expectations which were met and even exceeded. Thank you very much
VGTU IRO staff is so lovely and kind. Keep up the good work. Thank you for having us in Vilnius. I will miss the city, the university, the people, new friends, everything about VGTU ISW.
INTERNATIONAL STAFF TRAINING WEEK 2017
INTERNATIONAL STAFF WEEK ERASMUS+ GOES GLOBAL IN VILNIUS 2017
Vilnius Gediminas Technical University has held seven International Staff Weeks so far, but has never done this before - the International Staff Week "Erasmus+ goes global"! The aim of the event is:
TO MEET colleagues from the EU and non-EU countries – both academic and administrative staff;
TO SHARE valuable experiences and challenges of the Erasmus+ International credit mobility (ICM) programme implementation;
TO GET insights into managing ICM.
In addition, please be ready to discover the magic vibes of Vilnius – capital of Lithuania!
Are you interested? If so, please save the date: 24th – 28th April 2017.
The deadline for application is
13 January 2017
. Please complete the application
online
.
Participation in the International Staff Week is free of charge.
We are looking forward to seeing you in April!
If you have any questions or queries please do not hesitate to contact:
Ms Ieva Bagdonaite,
International Relations Office
E-mail:
crypt:PGEgaHJlZj0ibWFpbHRvOmlldmEuYmFnZG9uYWl0ZUB2Z3R1Lmx0Ij5pZXZhLmJhZ2RvbmFpdGVAdmd0dS5sdDwvYT4=:xx
Phone: +370 5 251 2399
Feedback on previous International Staff Weeks: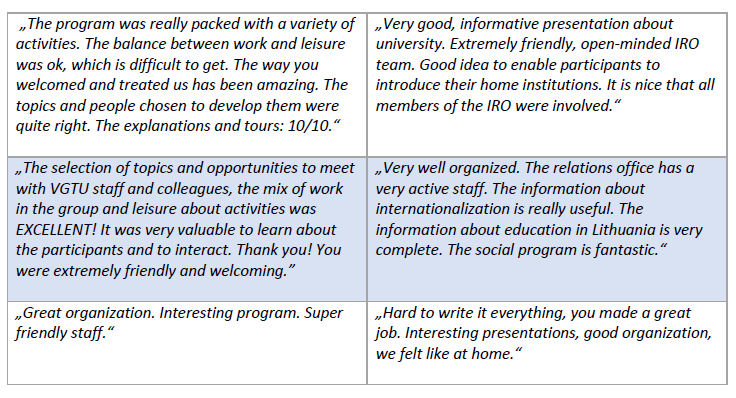 Page administrators:
Margarita Kapčiuvienė
Mantė Taser
Kristina Lazickienė