Orchestra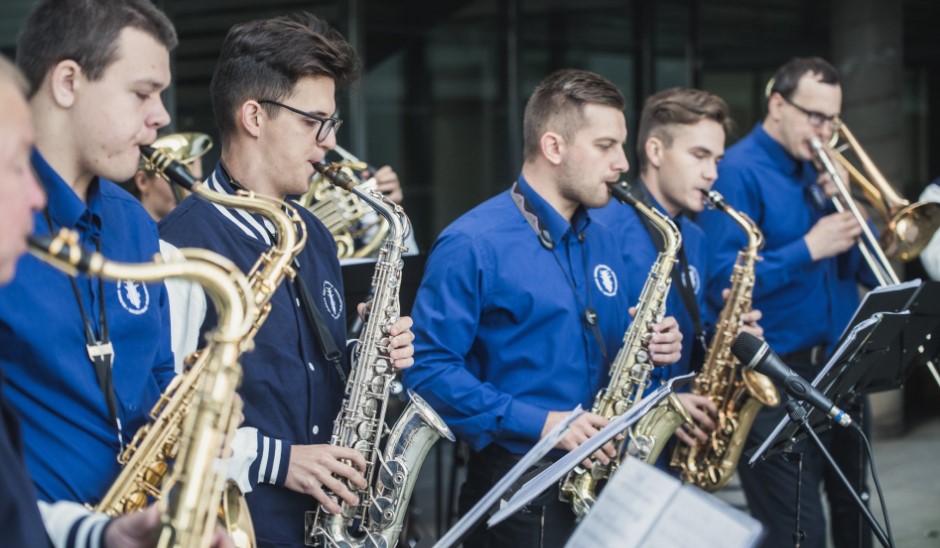 VILNIUS TECH Wind Orchestra was officially restored in 2011, which makes it the youngest art collective of the university. The orchestra welcomes students with all kinds of musical experience, who know how to play various instruments. Students with playing wind instrument skills are particularly welcome here: a special division – Dixieland – will be assembled as part of the orchestra for the most talented.
VILNIUS TECH Orchestra participates in almost all events organised by the university's community and student representative office. It is an active participant and often the winner of various competitions. It performs across Lithuania and has already participated in such events as the 16th Baltic students' song and dance festival Gaudeamus in Daugavpils, the Song Festival "This is my home". Since its restoration it has been participating in the annual Lithuanian Wind Orchestra Championship. In 2014 the orchestra was awarded the highest award of amateur art collectives – "Golden Bird" for its high artistic level and achievements. The members of the orchestra have also initiated and organised festivals such as "Sounding Christmas Bagpipes" in Vilnius (2013, 2014), the international student wind instrument orchestra festival "Mad Sounds of Bagpipes" also in Vilnius (2015) and a concert tour in Lithuania "Ringing Spring Bagpipes".
Since Spring of 2018 new art director and conductor of the Orchestra is Vladimir Školnyj.
If you play any instrument, do not hesitate - join VILNIUS TECH Orchestra!*
*instruments are provided if you do not have any.
Page administrators:
Justina Pleskevičiūtė
Giedrė Burneikaitė
Raminta Kuktaitė