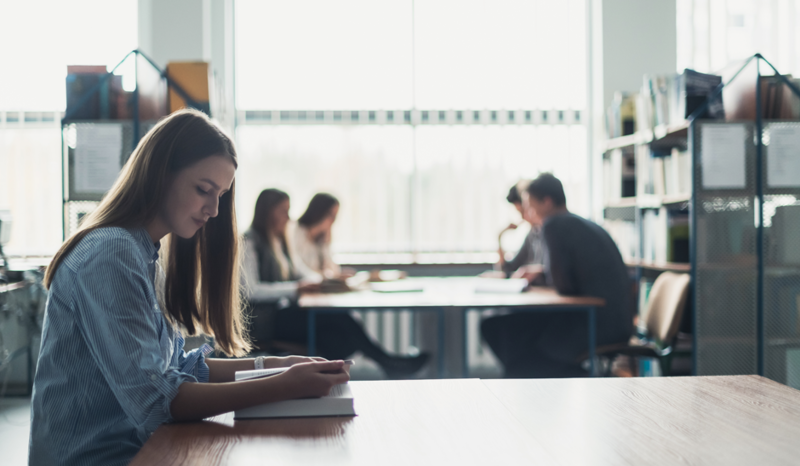 2022-11-22
Library spaces - for individual and team work
VILNIUS TECH Library invites the university community to use the library's spaces, reading rooms, and reserve workrooms for individual or team work.
Here you will find workplaces and computers equipped with all the necessary software for studies and science (Autodesk, AutoCad, SOLIDWORKS, WaterGEMS, SewerCAD, MATLAB, etc.), scientific and informational publications and books. You can read the publications in library or borrow them without pre-order or you can order the publications via
VILNIUS TECH virtual library
.
The
spaces
of the Central Library (Saulėtekio al. 14) are convenient to organize lectures, seminars, trainings and the possibility to use smartboard. Here you can also find a fiction stand for leisure reading, and coffee and snack vending machines on the first floor of the library.
Looking for a quiet place to prepare for your exam session? Take advantage of the library's workrooms, which are adapted to both individual and group study needs. Reservation of workrooms
>>>
The library is equipped with workplaces for users with special needs: special software, stationary image magnification devices and an elevator for users with reduced mobility
>>>
At any time, you can return publications through the return box on the outside of the building also at any time* you can use the self-service machine of printing, copying and scanning in the library.
More information about spaces in the library
>>>
If you have any questions, please contact us via phone (8 5) 274 4900 or via mail
crypt:PGEgaHJlZj0ibWFpbHRvOmJpYmxpb3Rla2FAdmlsbml1c3RlY2gubHQiPmJpYmxpb3Rla2FAdmlsbml1c3RlY2gubHQ8L2E+:xx
*At night (9.00 p.m. – 9.00 a.m), on weekends and on public holidays entrance only with activated student (LSP), employee card or VILNIUS TECH card. To activate student (LSP) or employee card you can in VILNIUS TECH university (Saulėtekio al. 11, SRL-I, 3rd floor.)
Page administrators:
Jolanta Juršėnė
Asta Katinaitė-Griežienė
Orinta Sajetienė
Marta Širokova