study projects


The contest ''I am doing business! From science to start-up'' has been organised to encourage the young people's entrepreneurship skills, to arouse their interest in business-building opportunities in Lithuania and for the practical application of knowledge, acquired during their studies.
In the middle of May, the contest "I am doing business! From science to start-up" ended. The contest received fifty-four entrepreneurial ideas from students of Vilnius Gediminas Technical University (VGTU), as well as other Lithuanian and foreign higher education institutions.
The first place went to Juozas Sadauskas and Julius Švagdys, the third year Telecommunications Engineering students, Faculty of Electronics, VGTU, for the idea of smart home "Indra". The second place went to Šarūnas Skuodis, the Lector of the Department of Geotechnical Engineering, PhD, Faculty of Civil Engineering, VGTU, and Dr. Kęstutis Kelevišis, the Geotechnical Expert of the Association ''VAE SPB'', for the idea of "Non-Contact Distance Meter''. The third place went to Vytautas Karpauskas, the Bachelor of Communication and Information, VU, and Daniel Okeoghene Williams, the post-graduate student of Business Informatics, MRU, for the idea of mobile applet ''Play in Touch APP''. All winners received Certificates of Gratitude, presents from the Faculty of Business Management, VGTU and cash awards, sponsored by the entrepreneurs Nerijus Juškaitis, Skirmantas Maulevičius and Antanas Sysas.
At the contest, the participants had the opportunity to meet and be acquainted with the entrepreneurs and investors. One of them was Skirmantas Maulevičius, who advised the students and assisted in developing their ideas. In addition, all participants had a chance to participate in the open discussion-workshop "The Adaptation of Social Innovations in Business". Mindaugas Danys, the entrepreneurial consultant of the public institution ''Sunrise Valley'', conducted this workshop.
"We received Applications from the students of Vilnius University, Kaunas University of Technology, Mykolas Romeris University and Westminster College. This proves that not only our students knew about the contest. In addition, not only studying young people, but also all people looking for new opportunities and advice on how to realize their ideas, knew about it. Many of the participants of the contest proposed to create or improve smart technologies, others – to introduce new services or develop new products,"- said Prof. Dr. Jelena Stankevičienė, the Dean of the Faculty of Business Management at VGTU.

Tradition event - "Business Express", took place at Vilnius Gediminas Technical University (VGTU). To tell the truth, its format has been changed this year: instead of touring companies, the event suggested lectures of business professionals from foreign enterprises.

During these two weeks, the lecturers from Norway, Germany, Sweden, Italy, Greece and the United Kingdom delivered more than thirty lectures.

The gained experience has been shared by Erik Irgens from "Semco", Konstantin Atanasov from "InfraTest Prüftechnik GmbH", Anders Bergström from "WowScand ", Davide Casaleggio from "Casaleggio Associati", Konstantina Zoehrer from "ThirdEye3", John H.S. Craig from "Girac", Myrto Papathanou from "EFA Group" and two Lithuanians – Tomas Uzdanavicius from "Forsen Project" in Sweden and Michailas Romanovas, VGTU graduate student from "German Aerospace Centre".

All foreign lecturers visited Lithuania for the first time.

Lectures were open to everybody, but the topics presented were mostly enjoyed by the students from Creative Industries, Business Management, Civil Engineering, Environmental Engineering faculties and Antanas Gustaitis' Aviation Institute.

Innovative business promotion (INOVEKS)
Project acronym: INOVEKS

Project coordinator: Agency for Science, Innovation and Technology
Project budget: 2.785.200,13 EUR

Supported by: European Regional Development Fund (ERDF) and The European Social Fund.

Project end date: October 1, 2015 (duration 24 months).
Project partners:
Vilnius Gediminas Technical University (The Faculty of Business Management)
Lithuanian University of Health Sciences
Lithuanian Energy Institute
Northtown Technology Park
Kaunas University of Technology
Vytautas Magnus University
Aleksandras Stulginskis University
Kaunas science and technology parc
Science and Technology Park TECHNOPOLIS
Vilnius University
Vilnius University International Business School
Sunrise Valley Science and Technology Park
Visoriai Information Technology Park
Klaipėda University
Klaipeda Science and Technology Par
Project description:
Agency for Science, Innovation and Technology (MITA) is the main governmental institution responsible for innovation policy in Lithuania. Innovation is one of the key factors for the development of national economy, but, according to the Innovation Union Scoreboard (the European Union (EU) Member States' performance in Innovation assessment tool), Lithuania now ranks of the last in the EU. Therefore it is necessary to promote development of Innovation in both Business and Science areas, with particular emphasis on mutual cooperation and technology transfer processes.
Project tasks:
To create opportunities for students, doctoral students and young researchers to generate, refine business
ideas and establish new high added value technology start-ups, getting advice in creating a model and (or) a prototype and get preferential conditions for businesses development.
Project activities:
Run a selection process of the best ideas from undergraduate, postgraduate and PhD students, and young scientists, consulting on submission of ideas and legal business issues;
Expert advices for the SMEs in regard to research commercialization, technology transfer, business development, prototypes and (or) models creation issues. SMEs incubation in science and technology parks.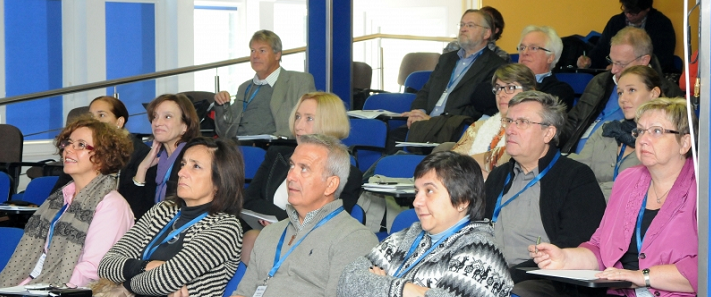 "Prime Networking" is the international non-profit association the mission of which is to develop and promote intercultural and inter-disciplinary training and academic programmes, research, as well as to facilitate cooperation between universities and business. VGTU has become the ambassador of Lithuania in this association a few years ago.

One of the most important activities of the network is the annually organized students' conference "Euroweek". During the conference, international groups of students present their innovative projects in the fields of business, engineering or information technologies.

Students' works are assessed by the competent commission, which shall take into account both the innovation originality and practical application, as well as both the organization of the project presentations or involvement of the audience. Participants gain knowledge, which comes in handy for subsequent studies, and the international project management skills, thus strengthening their positions in the labour market.

During the "Euroweek" conference VGTU Faculty of Business Management team's project "Creative Economies: Creating, Developing and Sharing Sustainable Ideas" was acknowledged to be the best. It was evaluated for a strong scientific part, creativity, originality and completeness of presentation.

Page administrators:
Salomėja Vanagienė
Agnė Vaiciukevičiūtė
Indrė Radvilaitė
Olga Stančik
Evelina Kairiūkštytė
Milena Medineckienė
Augustė Jablonskytė
Agnė Augustinaitė