National project "Design of intelligent information system for agriculture techniques"


The intelligent information system for agriculture techniques is being developed during the project which allows to execute the complicated actions of data operation and analysis. The initial data will be collected into system integrated data-bases by the designed intelligent information system. With the help of developed data conversion model the various files generated from intelligent techniques (specific formats) will be converted to one unifies data file allowing use the data for required functions and purposes such as overlaying, mathematical operations, spatial analysis, visualization, and etc. The processed data will be stored into special designed and configured data-bases.

The intelligent information system for agriculture techniques is designed for farmers, which use various agriculture techniques with modern technologies integrated. The uniqueness of this system is the ability to receive, convert into required format, and analyse the data from various equipment of different manufacturers. Exploring this intelligent information system the evaluation of efficiency of agriculture performance will be possible, also receive the instantaneous and long-term data, and make the required decisions. This will make the premises to increase the working efficiency and increase of income of farms, also to improve the quality of production and reduces the negative environmental impact.

The main objectives of the project include: the preparation of feasibility study, the design and development of intelligent information system for agriculture techniques, its testing and demonstration of farm applications, and public presentation of achieved results.

The project is implemented under a joint activity agreement together with the main participant and six partners.
International project "Policy Area Energy/ Policy Area Transport (PAs Energy/Transport)", Interreg programme

Specific objective:
Coordination of macro-regional cooperation: To increase capacity of public administrations and pan-Baltic organisations for transnational coordination in implementing the EU Strategy for the Baltic Sea Region and facilitating the implementation of common priorities with the partner countries.
The aim of the project is to facilitate the implementation of the EU energy goals in the Baltic Sea region (BSR) using the benefits of the macro-regional cooperation: opportunities to share experience and learn from others, determine problems within the region that require common solutions, find challenges and opportunities related to territorial cohesion and work together to find the best solution.
By implementing the activities included in the Work Packages the partnership is working towards the implementation of the EUSBSR to reach the objectives set in the action plan and to foster the development of the region. The project will be carried out by EUSBSR PACs Energy and PACs Transport with the purpose to accomplish the required coordination duties of their respective Policy Areas.
PA Transport
Transport is a key issue in the EUSBSR. The prosperity and sustainable growth of the Region is reliant on well-functioning transport connections and services between the metropolitan areas and other economic centres within its territory but also with other parts of Europe. The growing Asian markets set an additional perspective for the Region's external connectivity. This project aims to support implementation of the new PA Transport Action plan, including to:
- facilitate development of the TEN-T core network corridors for better connectivity, accessibility and cohesion,
- improve transport cooperation with the third countries,
- encourage macro-regional transfer of sustainable solutions in passenger and freight transport.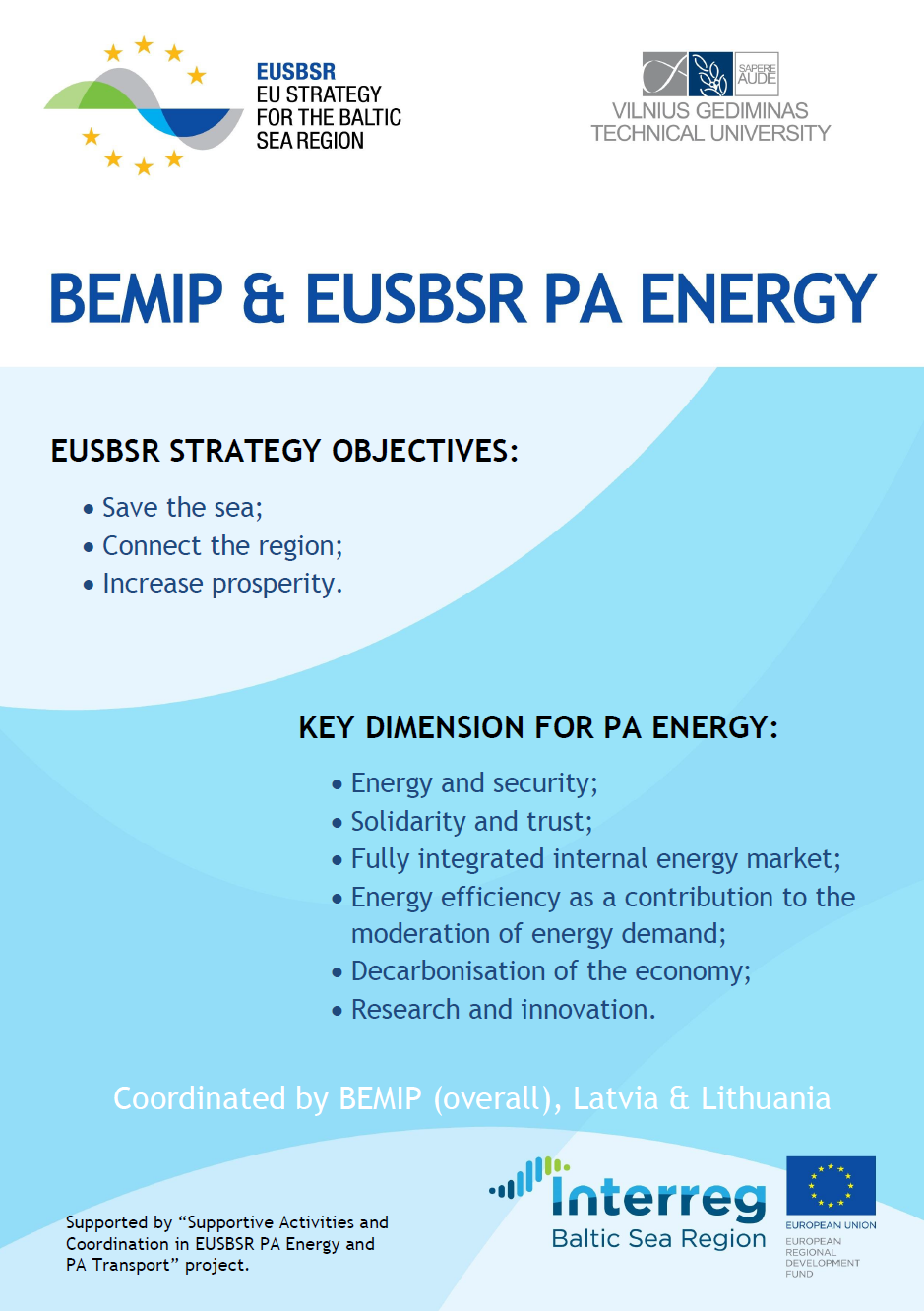 International project "EFFECT-RAIL" of bilateral cooperation between Lithuania and Ukraine
Project "Development of science-intensive methods of engineering the surfaces of a highly loaded wheel-rail contact to ensure the competitiveness, environmental friendliness and energy efficiency of rail transport" (Acronym – EFFECT-RAIL) of the Lithuanian–Ukrainian Cooperation Programme in the Fields of Research and Technologies. Partners are Vilnius Gediminas technical University (VGTU) and Volodymyr Dahl East Ukraine national university (VDEUNU). Prof . Gintautas Bureika is a Head of VGTU side. Promoters – Assoc. Prof Gediminas Vaičiūnas and Dr Stasys Steišūnas (2018-2019).

The aim of the project is to develop the engineering concept and science-based methods to estimate the intensity of wheel and rail contact surface to ensure railway traffic safety, environmental friendliness and competitiveness in the European market. The project envisages the development of new, innovative methods of rolling the wheelbase with track improvement, which would allow to control the adhesion parameters in a wide range on different modes of locomotive operating (traction, braking) and exploitation different conditions (meteorological conditions, track pollution).
International project "Mobility and Accessibility in Rural Areas: New approaches for developing mobility concepts in remote areas (MARA)", Interreg programme

European regional development program INTERREG BSR project "Mobility and Accessibility in Rural Areas: New approaches for developing mobility concepts in remote areas" (Acronym, – "MARA") has been performed by teams, assembled of researchers of Transport and Logistics Centre and Research Institute of Territory Planning. A Head of VGTU side is Chief researcher, Prof. Gintautas Bureika. Budget is 100,000 Eur. Project No R100. Term: 2018-2021. VGTU as project "MARA" project partner (PP5) is focused on these fields:

1. Car-sharing
Examination of car-sharing services modes and other types of transport means sharing in Lithuania. Implementation of car-sharing service modes and other types of public transport for improving sustainable mobility in rural regions and remote areas. Explanation and evaluation of strengths and weakness of car-sharing applications. Furthermore, the examination of car-sharing services applicability in the main resort areas in Lithuania. The car-sharing system as a particularly environmentally friendly tool expanding and complementing the existing public transport systems (in terms of more electric and/or hybrid vehicles).

2. Autonomous/ Automated Vehicles
Possibility study of substitution the autonomous/automated vehicles for traditional (diesel/ petrol) vehicles/ cars in car-sharing services. State-of-art solution for car-sharing systems will be proceeding in this project, taking into account rural/ remote areas. Specifications for mobility vehicles targeting the peculiarity of the low-density population will be under investigation. Autonomous (self-driving) cars hopefully are most suitable for A-B model, i. e. for transport links between large cities and rural/resorts places. When the automated (driver-less) vehicles are more attractive for implementation for the fixed ("ring") routes such as sightseeing in resorts areas. The breakpoint of profitability of implementation self-driving/ driver-less vehicles will be defined. The right choice of investment direction will allow faster technology deployment and maximise the positive effect.

3. New Business Models
New collaborative business models of services based on sharing economy for mobility in rural and/or remote areas will be investigated. Reviewing the existing regulatory framework in a rental car and insurance regulation in EU countries. Conducting a market assessment: to understand the competitive landscape, who what their mobility frustrations (failure to meet expectations) are and if the proposed business model will solve that problem. There is a need to find new approaches and identify the unexplored potential of emerging peer-to-peer (P2P) and business-to-consumer (B2C) opportunities in the car-sharing mobility market. Non-for-profit model – in car-sharing operated as a not-for-profit community, i. e. through public organisations. New concepts of marketing of car-sharing system and new business models for sharing economy will be developed.
International project "Measuring, monitoring and data handling for railway assets; bridges, tunnels, tracks and safety systems (Assets4Rail)", Horizon 2020 programme, Shift2Rail Action
Assets4Rail shares the Shift2Rail view of having an ageing European railway infrastructure that needs to cope with the expected increased traffics in the future. Likewise, reliable rolling stock will be required to crystallize the desired modal shift to rail. Both goals relay on a proactive and cost-effective maintenance and intervention system in the assets. Assets4Rail aims to contribute to this modal shift by exploring, adapting and testing cutting-edge technologies for railway asset monitoring and maintenance. To achieve that, Assets4Rail follows a twofold approach, including infrastructure (tunnel, bridges, track geometry, and safety systems) and vehicles. A dedicated information model (BIM) will be the keystone of the infrastructure part of the project. This model with integrated algorithms will gather and analyze the information collected by specific sensors which will monitor subsurface tunnel defects, fatigue consumption, noise and vibrations of bridges as well as track geometry. On the other hand, train monitoring will include the installation of track-side and underframe imaging automated system to collect data for detecting specific types of defects that have non-negligible impacts on infrastructure. The additional use of the RFID technology will enable the smooth identification of trains and single elements, associated with the identified rolling stock failures. The combination of mentioned real-time collected data with existing data along the implementation of deep learning techniques for assessing large data volumes will pave the way towards a cost-effective and proactive maintenance process of infrastructure and rolling stock. In addition, two innovative intervention methods, noise rail dampers and the cleaning of long tunnel drainage pipes, will be validated on field. Assets4Rail will benefit from a strong multidisciplinary consortium committed to concrete exploitation activities aligned towards the achievement of the challenging project objectives.
National project "Investigation of tribological micro-macro processes in multi-phase layer with ice-snow particles and their contribution to tire-layer-surface system (TireMultiPhase)"
We will investigate the tribological system "car tire - intermediate layer - the surface of the road" and its multi-phase intermediate layer between the deformable surface of the tire and the road going dynamic and thermos-hidrodynamic processes. The intermediate layer is made of a multi-phase water, air, snow and ice particles. The aim is to investigate the tribological high-speed dynamic and thermo-hydrodynamic macro-micro processes and determine their effect on the macroscopic tribological performance. There are formulated seven challenges. The proposed original research strategy, the essence of which is investigating physical processes in the macro and micro levels. The individual mathematical models should be developed for each level. Macro-level mathematical models of deformable tires, multiphase mixture layer (DFSM) with snow and ice particles and the surface interaction, which are combined into one dynamic and hydrodynamic mathematical model, will be developed. Moreover, it should be created the DFSM model with snow and ice particles with the physical and mechanical properties of them. The pressure waves in DFSM and tires kinematic parameters of DFSM hydrodynamics task should be evaluating. A set of macroscopic tribological parametric indicators should be determined in macro-level. Mathematical models of mechanical contact, which consist of the tire tread and dynamic contact DFSM thermo-hydrodynamic tasks, should be investigated in micro level. These tasks are assessed tread interaction with the surface, their own interaction, including DFSM pressure distribution between the tread and the road surface and the heat emission in contact zones. Numerical methods such as finite element, finite difference and discrete element methods should be used for numeric solution of created mathematical models.
International project "Benchmarking of Wheel Corner Concepts Towards Optimal Comfort by Automated Driving (OWHEEL)", Horizon 2020 programme, Marie Skłodowska-Curie Research and Innovation Staff Exchange (RISE) Action
The project OWHEEL aims at the development and evaluation of new concepts of automotive wheel corners as crucial elements of future vehicle architecture tailored to provide an optimal comfort during automated driving. The consortium will benchmark four essentially different classes: Passive corner with specific wheel positioning; Passive composite corner; Active corner with ordinary ride dynamics control; Active corner with integrated wheel positioning control.

For each proposed concept, the project will include relevant stages of development design, extensive simulation studies and experimental validation. The main goal of the OWHEEL project is to perform deep analysis and provide on its basis the recommendations for future vehicle architecture, which could ensure an optimal comfort by automated driving. In this regard, the research and innovation objectives are focused on:

i. Revisiting the driving comfort criteria with their tuning to automated driving requirements and operational modes;
ii. Development of bencmarking criteria and corresponding analytical tool for comparison of wheel corner concepts in terms of driving comfort quality with simultaneous ensuring of required performance in terms of safety, energy-efficiency and reliability;
iii. Development and validation of active wheel corner concepts;
iv. Development and validation of passive wheel corner concepts;
v. Producing practical recommendations for automotive system developers based on obtained R&D results

The implementation of the project OWHEEL will be based on intensive staff exchange that leads to collaborative research and training between universities and industrial organizations from EU, Japan and South Africa. The project will also include relevant networking, dissemination and exploitation actions.
Page administrators:
Linas Pilipavičius
Darius Aleksonis
Lijana Maskeliūnaitė
Rasa Prentkovskienė
Eglė Dabulevičiūtė
Remigijus Bagdzevičius
Augustė Jablonskytė
Agnė Augustinaitė