Home
About University
News
Cooperation agreement between VILNIUS TECH and UAB "Accenture Lithuania"- training of the future IT specialists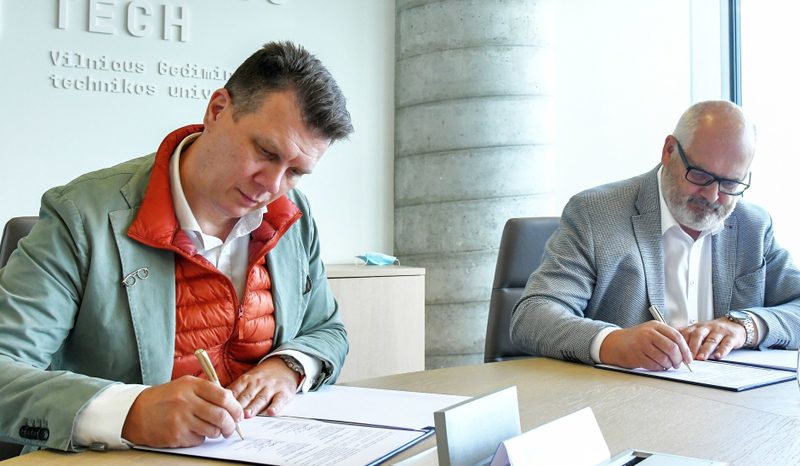 2021-09-02
Cooperation agreement between VILNIUS TECH and UAB "Accenture Lithuania"- training of the future IT specialists
Vilnius Gediminas Technical University (VILNIUS TECH) and UAB "Accenture Lithuania" on August 27 have signed an agreement of cooperation in R&D and education. The main focus of cooperation is to promote mutual cooperation in research, education and train IT professionals. It is very important to broaden the understanding of the future specialists about the global trends and R&D solutions in IT.

In order to contribute to VILNIUS TECH expertise in this area, "Accenture Lithuania" will provide an open lectures by the company professionals for university students, give an access for university researchers and students to company's knowledge pool and training, facilitate student internships and study visits to the company.

"Technologies are transforming our society and they are gateway to the future in almost every profession. Our cooperation with universities provides full study course content, guest lectures and practical workshops, supervision of bachelor and master thesis development, and other activities. Our strategy is to work with educational institutions to help them provide students the skills and knowledge needed to get great jobs, and to build the quality of education in the Baltic states. The collaboration between Vilnius Gediminas Technical University and Accenture drives efforts in increase the number of graduates with IT skills," says Accenture Baltics lead Maksims Jegorovs.

Accenture is a leading global professional services company, providing a broad range of services and solutions in strategy, consulting, digital, technology and operations. Combining unmatched experience and specialized skills across more than 40 industries and all business functions, Accenture works at the intersection of business and technology to help clients improve their performance and create sustainable value for their stakeholders. With 537,000 people serving clients in more than 120 countries, Accenture drives innovation to improve the way the world works and lives.

The new center in Lithuania will focus on developing and delivering a wide range of cross-industry technology solutions across leading technology platforms, as well as custom engineering, infrastructure and cloud services to clients across the globe. To do so, the center will leverage innovative delivery models, agile development and automation capabilities.

Partners will seek to nurture future IT talents not only at the university, but also broader communities schools. There are excellent opportunities to participate together in international research projects and organize trainings for Information Technology (IT) specialists and students. These activities will help to expand and supplement their study content as well.

"VILNIUS TECH cooperation agreement with UAB Accenture Lithuania is unique in a way that the university has become a strategic partner of the company from the very first days of its entry into the Lithuanian IT market. It is very important that we have an excellent dialogue with this global technology leader and have a common understanding of the needs of IT professionals development and the market trends. We are ready to join forces and combine resources in order to strength the IT potential in Lithuania: not only to cooperate in research and education, but also implement together new outreach initiatives to increase quality of IT education and IT literacy of society in general. We believe that this partnership is an important milestone for the whole IT ecosystem in Lithuania. We hope to be an important partner who will contribute to the implementation of the company's ambitious growth plans "- says Vice-Rector for Strategic Partnership Assoc doc. dr. Asta Radzevičienė.

Page administrators:
Kristina Lazickienė
Kristina Lazickienė
Augustė Jablonskytė
Agnė Augustinaitė