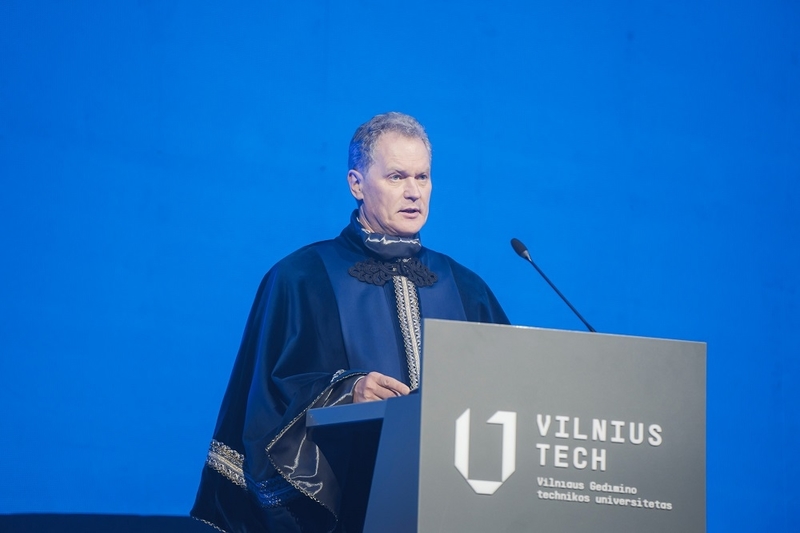 2022-05-09
Professor Romualdas Kliukas inaugurated as the Rector of VILNIUS TECH
On May 6th, VILNIUS TECH officially inaugurated professor Romualdas Kliukas as the university's Rector. In his inaugural address, the Rector emphasized the importance of the university for the progress and development of the state and the growing influence of technology in science, business, society, and in the daily life. "We are already one of the most important scientific institutions in the country, every day we help to overcome the challenges of the fourth industrial revolution not only for traditional Lithuanian industry, but also for emerging creative industries or space companies," said the Rector.
The Rector identified people as the key to the university's success and invited the community to work together to reach new heights: to improve the student experience journey during the study years, to provide knowledge-based innovative solutions to business partners, to contribute to a better tomorrow through alumni and to be an international attraction for talent, business and ourselves.
At the end of the speech, the Rector expressed hope that the university will grow by fostering sustainability, creativity, openness, innovation, and that students will learn a lot of life lessons in university.
Page administrators:
Kristina Lazickienė
Gabrielė Petrošiūtė
Kristina Lazickienė
Augustė Jablonskytė
Darius Tarasevičius
Agnė Augustinaitė