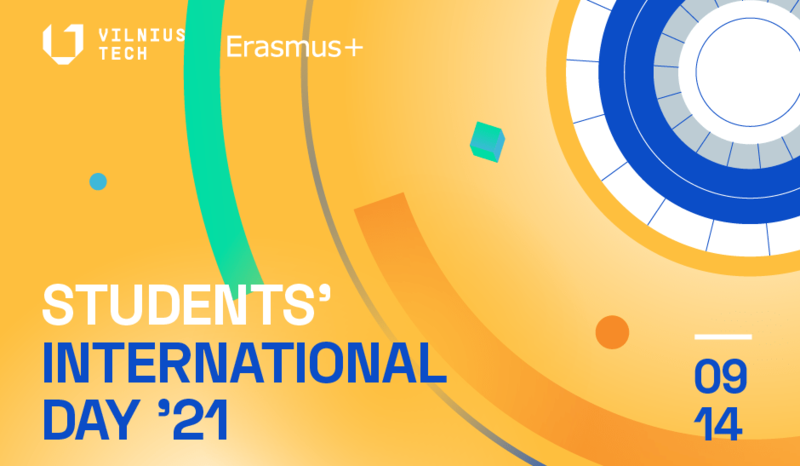 2021-09-14
Start your Erasmus+ journey at Students' International Day today!
We invite all VILNIUS TECH students on an unforgettable international adventure – start your Erasmus+ journey at
Students' International Day
, 14th of September at the Central building, 1st floor hall!
Important!
To keep the community safe and minimize risks of spreading COVID-19 disease, all participants entering the event will be required to:
• Show national health certificate (Galimybių pasas), EU Digital COVID Certificate, or other document, proving immunity against COVID-19.
• Register to the event, download a QR code, and show it at the entrance to the University.
Registrations for the Students' International Day event and movie session have to be made separately!
Find the registration
here
.
VILNIUS TECH Students' International Day program:
12:00
Start of the Students' International Day.
During the event you will be able to:
• Meet and talk with VILNIUS TECH incoming exchange students from all around the world, full time foreign students, and students who returned from a study exchange in previous semesters
• Discuss the study and internship exchange opportunities with your faculty Erasmus+ coordinators as well as coordinators from International Relations Office
• Meet the members of Students' Union (SA) and VILNIUS TECH ESN
• Compete in entertaining quizzes. Get yourself ready and win a handful of prizes of embassies residing in Lithuania!
• Have a picnic! The "BELLY BUDDY" Food truck will be serving free Hot Dog and a soft drink of choice to participants of the event at the parking lot near the Central building.
• Dance school "Motus" will invite you to challenge yourself on the dance floor
• VILNIUS TECH Faculty of Fundamental Sciences alumna DJ Gabija will fill the atmosphere with good beats
16:00
Movie session at the Aula Magna auditorium
Find the registration
here
.
Page administrators:
Kristina Lazickienė
Kristina Lazickienė
Augustė Jablonskytė
Agnė Augustinaitė