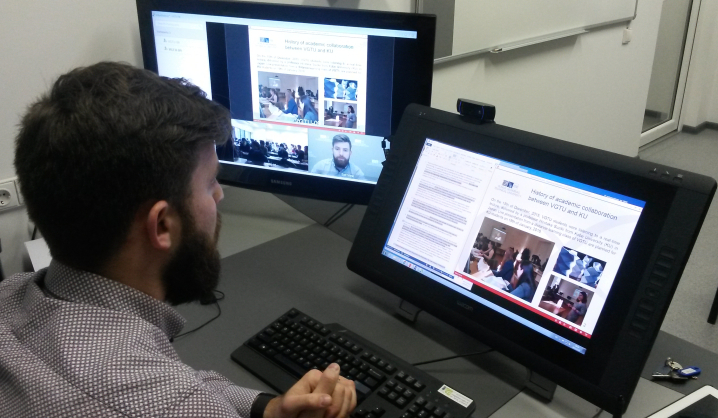 2016-01-25
Students in Japan listened to a direct lecture from VGTU
On 19 January 2016, at 6:00 a.m. Lithuania time, Vilnius Gediminas Technical University (VGTU) built a direct "bridge" to Japan, using the information technologies of a classroom of Distance Learning Centre at VGTU for the second time. This time, Arvydas Rimkus and Edgaras Timinskas, the lecturers of Engineering Graphics of the Faculty of Fundamental Sciences at VGTU, delivered a lecture for the students of Kobe University in Japan. Thirty-eight VGTU Architecture faculty and eight Construction Engineering faculty students participated at the lecture.
During the lecture, VGTU teachers presented two samples – Nordic Himmeli sculptures (Lithuanian heritage) and the French Eiffel Tower – two very different in scale and purpose, but similar in their geometric structure models, while introducing the modelling of bolt system to the young Japanese scientists.
Assoc. Professor Daiva Makutėnienė, the Head of the Department of Engineering Graphics said that the teachers had introduced the Himmeli sculptures deliberately. "Our colleagues from Japan requested to learn about Lithuanian ethnic peculiarities, so we decided to use the Himmeli
straw
sculptures for the illustration of space system. We were truly moved, that in a foreign country thousands miles away, our Lithuanian cultural heritage inspired young people to create beautiful and useful things," – said D. Makutėnienė.
Professor Hirotaka Suzuki (Kobe University, Japan), participating at the lecture said that the complexity and fragility of the Himmeli structures of the Lithuanian straw fascinated his students and inspired them to use the obtained ideas in their works.
This was not the first virtual ''bridge'' built between Japan and Lithuania - on the 15th of December 2015, Vilnius Gediminas Technical University (VGTU) students listened to a real-time lecture, delivered by Professor Hirotaka Suzuki (Kobe University, Japan). This cooperation comprised a part of the events, implementing the Cooperation Agreement, signed between the Faculty of Fundamental Sciences of VGTU and two faculties of Kobe University in 2014.
The Agreement parties are planning mutual scientific articles, exchanges of University staff and students as well as exchange visits on both sides.
Page administrators:
Kristina Lazickienė
Kristina Lazickienė