Home
About University
News
The 700th birthday celebration of Vilnius begins with an AI-powered installation created by students from VILNIUS TECH and its partner universities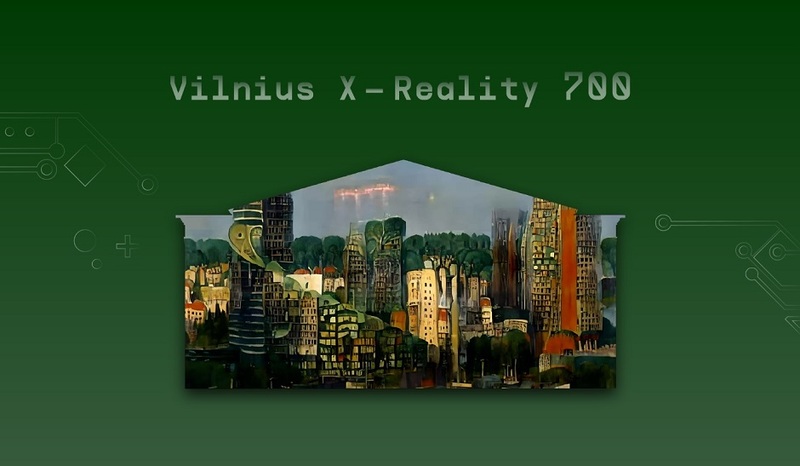 2023-01-25
The 700th birthday celebration of Vilnius begins with an AI-powered installation created by students from VILNIUS TECH and its partner universities
Today, Vilnius celebrates it's 700th birthday. The celebration begins with a spectacular and breathtaking Vilnius Light Festival. Modern light installations, new media art and the synthesis of architecture and light will transform The Old Town and the central part of the city. Streets, squares and public spaces will be flooded with spectacular lights, revealing all the charm of Vilnius city.
The festival features a special AI-powered installation VILNIUS X-REALITY 700 created by students and their mentors from Vilnius Gediminas Technical University (VILNIUS TECH) and universities from Germany and Finland. The animated images and computer games created for this visualization are based on the architecture of Vilnius Town Hall and the city's seven hundred years of history. Creators from VILNIUS TECH, Cologne Academy of Media Arts, Technical University of Cologne, and Tampere University of Applied Sciences have combined them with the cultural memory learned by artificial intelligence systems that have processed billions of images from the internet. Sometimes Vilnius is addressed directly through popular images and themes, sometimes experimentally and abstractly. The work reflects the creative synthesis of well-known designers and visualizers, using the achievements of modern information technologies.
For more information and the full program of the festival, please visit:
https://lightfestival.lt/en/
Happy 700th birthday, Vilnius!
Page administrators:
Kristina Lazickienė
Kristina Lazickienė