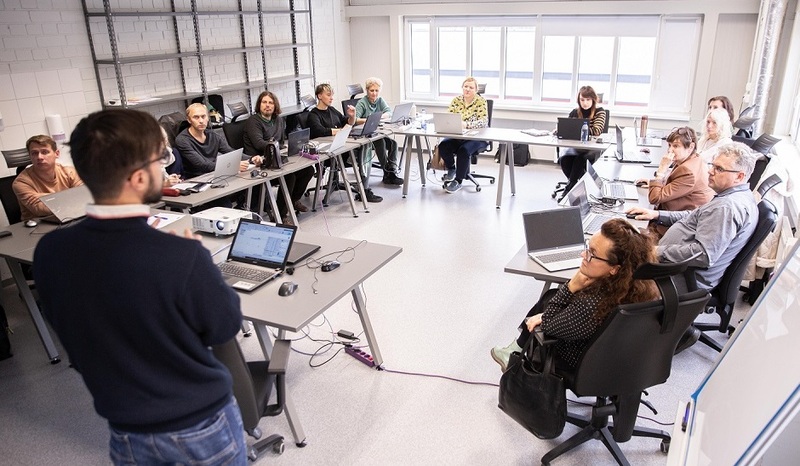 2022-10-21
The new FabLab training season kicks off with a programme for different levels of progress
A new season of FabLab training for teachers of FabLab schools in Vilnius has started at the Vilnius Gediminas Technical University (VILNIUS TECH) Creativity and Innovation Centre "LinkMenu fabrikas". This season, the training is organised at two levels of progression: the "FabLab 101" cycle is for beginner teachers. At the same time, "FabLab 201" offers the advanced level for teachers who have already attended "FabLab 101".

At the initiative of Vilnius City Municipality, 36 FabLab workshops have already been set up in Vilnius schools, allowing students and teachers to experiment and practise with rapid prototyping technologies such as 3D printers or CNC milling machines.

"The FabLab training provides teachers with the opportunity to integrate the latest technologies into the learning process, thus giving a new creative space for both students and teachers," says Dr Jurga Naimavičienė, Deputy Director of VILNIUS TECH "LinkMenų fabrikas" and curator of the FabLab training.
The FabLab training consists of three modules: 3D modelling and printing, CNC milling machines, and electronics/robotics. Each module goes beyond theoretical knowledge, as all modules include practical exercises and allow teachers to practice in their schools' FabLab workshops.

The training is led by VILNIUS TECH "LinkMenu Fabrikas" specialists Tautvydas Vitauskas (3D printing), Rokas Bagdonas (mechatronics and robotics) and Dr Audrius Krukonis, associate professor at VILNIUS TECH Department of Electronic Systems. The FabLab training will have 11 sessions at each level and run until the end of April 2023.

Page administrators:
Kristina Lazickienė
Kristina Lazickienė