Home
About University
News
VGTU starts cooperation with specialist financial services consultancy Catalyst Development Ltd from the United Kingdom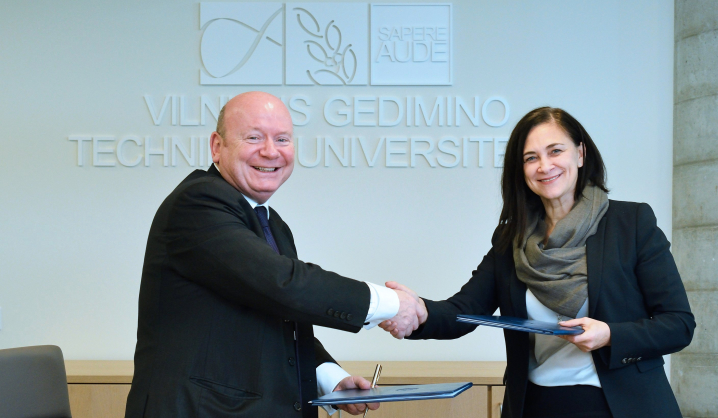 2018-11-14
VGTU starts cooperation with specialist financial services consultancy Catalyst Development Ltd from the United Kingdom
On 13 November, Vilnius Gediminas Technical University (VGTU) and a leading specialist financial services consultancy Catalyst Development Ltd from the United Kingdom have signed a cooperation agreement. It is a mutually beneficial partnership taking both sides towards a stronger university-business relationship.

"We are delighted to have this alliance formalised and we look forward to working with VGTU students. The idea to cooperate with VGTU was proposed by our employee and VGTU alumna Julija Bužinskė. Catalyst will be providing their support to VGTU's curriculum and are discussing opportunities to help progress students' career development. We will also contribute to guest lectures on financial services and marketing within the Faculty of Business Management," said Sean Albert Coote, the Head of Catalyst's Vilnius office.

Vice-Dean of the Faculty of Business Management at VGTU Agnė Vaiciukevičiūtė expressed her satisfaction that the Lithuanian office of such a well-known global company expressed interest to cooperate with the University, as Catalyst is among the top employers in the United Kingdom.

"We appreciate such an exceptional proactivity from the company and their cooperation proposal is very significant to us. It is important recognition of the Faculty of Business Management at VGTU and future employees that are educated here. We expect an active partnership. We feel a burst of the Western business culture and are very happy to see university-business cooperation steps as part of this partner's business strategy. It proves that they are ambitious and understand that talent attraction calls for long term strategy," said Agnė Vaiciukevičiūtė, Vice-Dean of VGTU's Faculty of Business Management.

The agreement was signed by the Head of Catalyst's Vilnius office Sean Albert Coote. The event was also attended by Catalyst's partner and an expert on clearing, derivatives, regulatory change Christian Lee, risk and regulatory specialist and Managing consultant Paul Dobbs, and two Consultants working at the company Emily Collie and Simonas Daulius.

VGTU representatives who participated at the signing of the agreement: Vice-Rector for Strategic Partnership assoc. prof. dr. Asta Radzevičienė, Dean of the Faculty of Business Management prof. dr. Jelena Stankevičienė, Vice-Dean of the Faculty of Business Management Agnė Vaiciukevičiūtė, Chief specialist at the Public communication office Vitalija Radzevičiūtė.

Catalyst specialises in regulatory-driven change, organisational improvement, technology and talent development, for investment banks, clearing houses and exchanges, institutional investors, asset and wealth managers. Headquartered in London, the firm works worldwide and holds the UK's highest business accolade, The Queen's Award for Enterprise, in recognition of its global impact.

Page administrators:
Kristina Lazickienė
Kristina Lazickienė
Augustė Jablonskytė
Agnė Augustinaitė