Recognition of Foreign Qualifications
Vilnius Gediminas Technical University (VILNIUS TECH) is appointed by the Ministry of Education and Science of Lithuania for a recognition of foreign qualifications for the purposes of further studies at VILNIUS TECH.
The evaluation of qualifications is a part of
admission procedure
and all students have to undergo this process.
For this purpose, you have to submit your application to the online application system
https://apply.vilniustech.lt.
By submitting the application, you confirm that documents you are submitting are correct, truthful and complete and that Vilnius Tech can verify the authenticity and accuracy of the documents you provided. Vilnius Tech might contact the document issuing authority and/or
national ENIC/NARIC
centre for more information about your qualification.
All documents issued in languages other than English, Russian, or Lithuanian should be supplemented with an official translation. Documents issued in English, Russian, or Lithuanian do not require a translation.
Before you apply make sure that your qualification:
is a higher education qualification or a qualification giving access to higher education;
belongs to the formal education system of the country of its origin (for example, it was issued by a recognised and/or competent institution).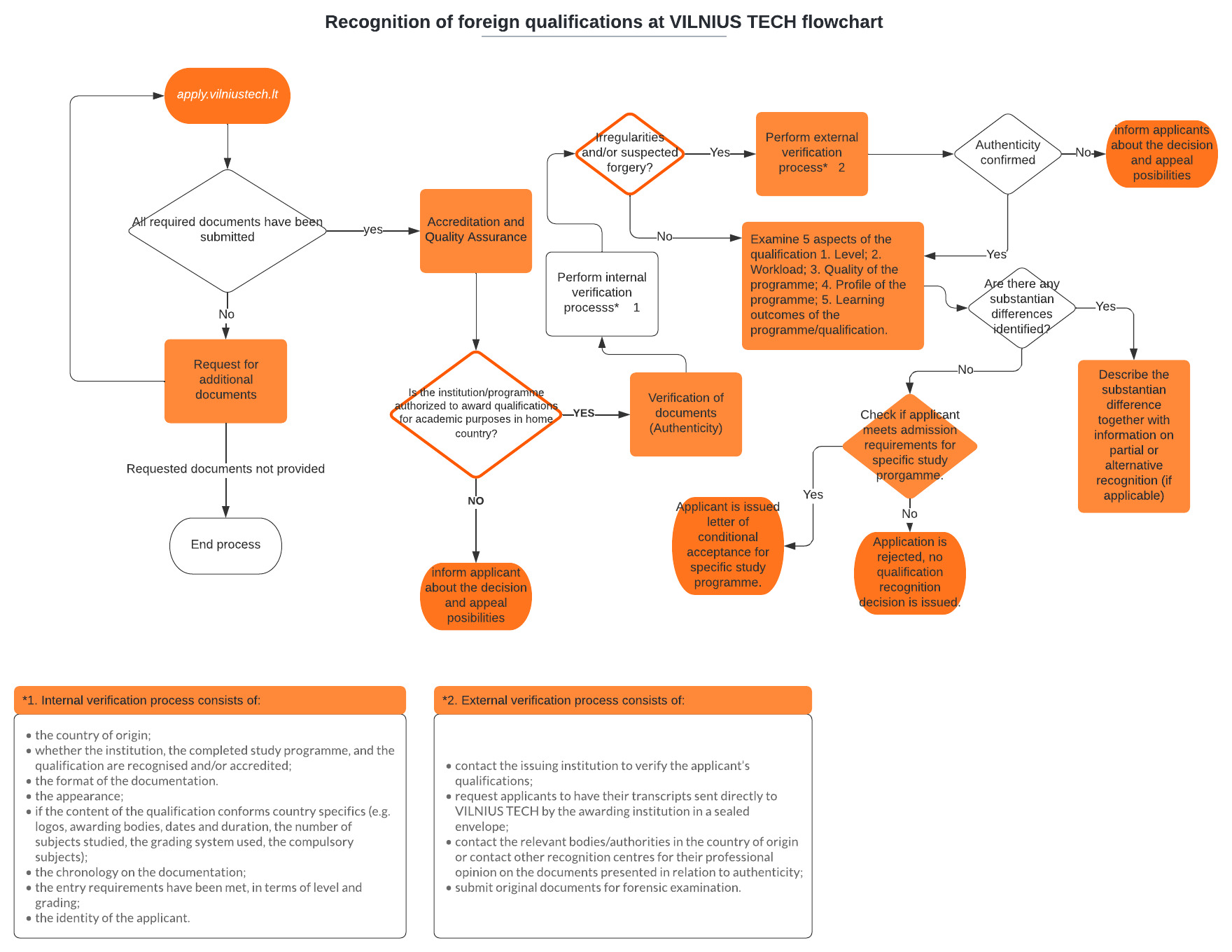 Criteria
The purpose of an assessment is to determine the academic value of a foreign qualification in Lithuania with a view of access to study at VILNIUS TECH.
The academic value of a foreign qualification is assessed by comparing the foreign qualification with a similar same level qualification awarded in Lithuania according to the following criteria:
quality, which refers to:
- whether the institution and/or programme has been properly quality assured at the time of your study (for example, properly accredited and/or recognised by national authorities)
- whether your grades are sufficient for the required purpose;
profile, which refers to the orientation of the programme (academic ally and/or professionally oriented, general and/or specialised, etc.);
contents, which refer to the structure of your programme, such as presence of periods of practice and/or final thesis, etc.;
workload, which refers to the provisioned workload of the programme;
learning outcomes, which refer to the knowledge and competences associated with the qualification.
Specific requirements for the programme you are applying at VILNIUS TECH.
Right to Appeal
All recognition decisions issued by us can be appealed against to the Academic Recognition of Foreign Qualifications Concerning Higher Education Appeal Committee under the Lithuanian Ministry of Education and Science.
Please note: Only recognition decision can be appealed. If you haven't met the specific requirements for the programmes at Vilnius Tech, the decision can't be appealed.
A signed appeal should be filed within 14 days from the receipt of our decision with our office. The appeal should include an explanation as to why the decision is contested, a valid form of identification, and all the supporting documentation.
All appeals must be submitted to:
Centre for Quality Assessment in Higher Education
Tel: +37052104778
Fax: +37052132553
Email:
crypt:cmVjb2duaXRpb25Ac2t2Yy5sdA==:xx
Address: A. Goštauto st. 12, LT-01108, Vilnius, Lithuania
Page administrators:
Karolina Kalinauskaitė
Dovilė Jodenytė
Kristina Lazickienė