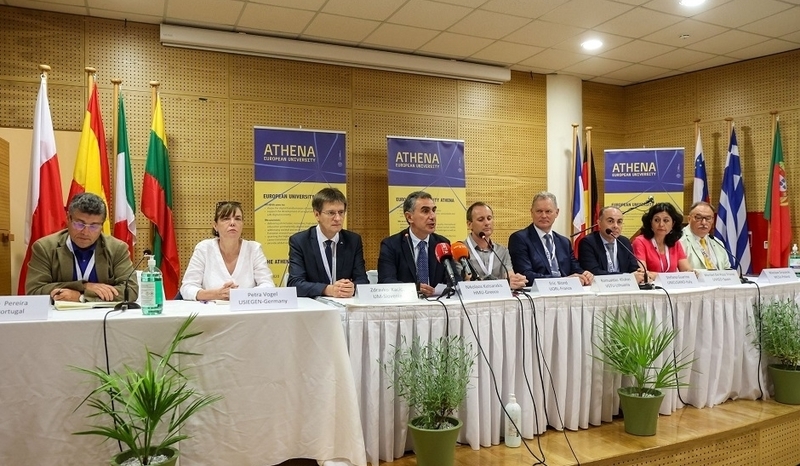 2022-06-23
Fourth ATHENA Alliance meeting: interim results and future developments
The fourth meeting of the ATHENA Alliance took place from 15 to 17 June in Heraklion, Greece.
One of the main objectives of this event was to discuss the interim project results, share lessons learned and outline the way forward for future activities.
Two new universities have joined the Alliance and attended the meeting - Maria Curie-Skłodowska University (Poland) and the University of Vigo (Spain). Their integration into the network's activities represents one of the current priorities. The new partners are expected to strengthen the Alliance by transferring their good practices in sustainability, student integration and other areas.
During the event, topics related to education, research, communication and dissemination, cooperation with industry, internationalisation and infrastructure were discussed in thematic working groups. The results achieved so far, as well as Alliance's future development were also discussed by Alliance Rectors at the Governance Board meeting. At the ATHENA Student Board meeting, students shared their ideas on how they could contribute to the implementation of
Alliance's objectives and better dissemination.
The event was attended by representatives of local authorities and the media. On the first day of the meeting, a press conference was held by the rectors while the plenary session was broadcast live on the internet.
The Advanced Technology Higher Education Network Alliance (ATHENA) is one of 41
European university alliances
supported by the European Commission, contributing to the future of universities, the transformation of European higher education, its competitiveness, and the dissemination of EU values.
The following nine universities from EU countries represent
ATHENA Alliance
:
- Polytechnic Institute of Porto, Portugal;
- Hellenic Mediterranean University, Greece;
- University of Siegen, Germany;
- University of Maribor, Slovenia;
- Niccolò Cusano University, Italy;
- University of Orléans, France;
- Vilnius Gediminas Technical University, Lithuania;
- University of Vigo, Spain;
- Maria Curie-Skłodowska University, Poland.
Page administrators:
Kristina Lazickienė
Kristina Lazickienė
Darius Tarasevičius