Home
About University
News
Memorandum of understanding signed between VILNIUS TECH and National Sun Yat-sen University in the field of advanced technologies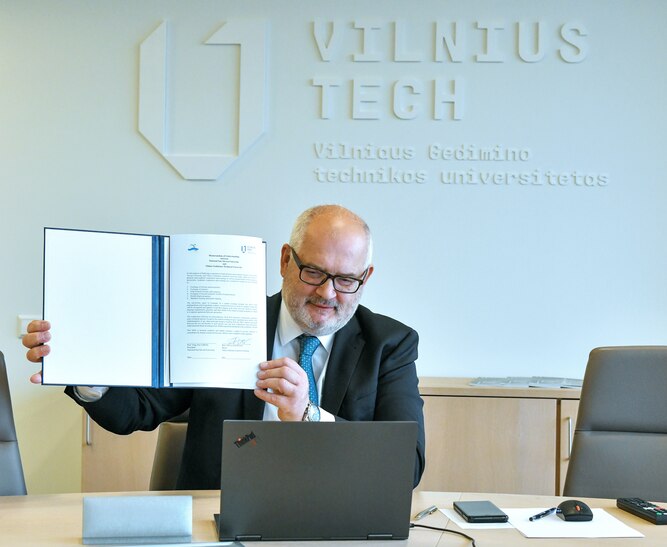 2021-10-25
Memorandum of understanding signed between VILNIUS TECH and National Sun Yat-sen University in the field of advanced technologies
On 21 October, Rector of Vilnius Gediminas Technical University (VILNIUS TECH) Alfonsas Daniūnas and President of Taiwan National Sun Yat-sen University (NSYSU) Ying-Yao Cheng signed a Memorandum of Understanding. The signing of this agreement and the development of cooperation between the two universities was initiated by Eric Huang, representative of the Taipei Mission to the Republic of Latvia.

The MoU aims to promote university cooperation in the priority areas of electronics and cybersecurity, semiconductors, 5G & AIoT and other areas of mutual interest.

VILNIUS TECH and NSYSU undertake to jointly support the academic exchange of students and researchers, joint research and the development of double-degree programs. Furthermore, this agreement will open opportunities for VILNIUS TECH students to participate in the newly initiated bilateral Lithuanian-Taiwanese STAR programme supporting R&D in the field of semiconductors.

The MoU opens new opportunities to participate in Taiwan's state scholarship programmes supporting student exchange. VILNIUS TECH students will do internships in the technology park established near NSYSU – one of the country's largest semiconductor research excellence centres.

The joint activity plans will be implemented in close cooperation with the university's business partners operating in the field of advanced technologies.

Page administrators:
Kristina Lazickienė
Kristina Lazickienė
Darius Tarasevičius