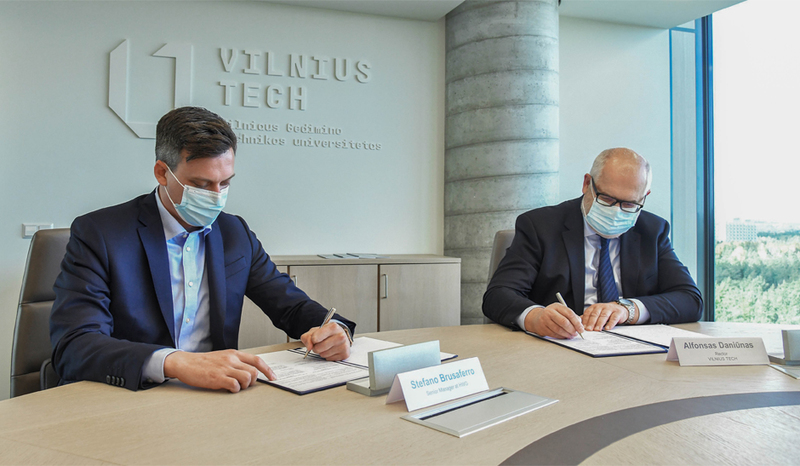 2021-10-22
VILNIUS TECH and HWG are joining forces for IT Security education
Huge demand for IT Security specialists and solutions, both in Lithuania and around the World is the backbone for the most recent initiative between VILNIUS TECH and HWG, who are joining forces in.

HWG is an Italian company that provides cyber security for large multinational companies, for over 10 years. Following the inauguration of a new HWG Security Operations Center (SOC) in Lithuania a Cooperation Agreement between the company and VILNIUS TECH marks an important milestone for both partners.

"Our experience in IT field and the technical skills of the cybersecurity experts, working in the SOC, are the fundamental factors for our core business. That's the main reason why we came up with the idea of present ourselves as a Cybersecurity laboratory for VILNIUS TECH, offering its students the opportunity to get hands-on experience with the tools and technologies, studied during the lectures", – says Stefano Brusaferro, CEO at HWG Cyber Security Nordics.

For Cybersecurity laboratory HWG designed 6 workshops to be offered in a hybrid mode, which will be offered to students during the two-year IT security programme for Master students. The topics are ranging from ethical hacking to malware analysis and many more. The opening lecture of encryption led by HWG in VILNIUS TECH already happened on 19th of October.

"We are abolutelly sure that top notch industrial knowledge of HWG with its previous experience cooperating with universities around the world such as in Verona, Genoa, Singapore, etc. gives us an oppotunity to benefit and learn from the excellent knowledge poll of HWG. We do believe that this is going to be a very inportant conctribution to exisiting IT knowledge base here in Lithunia and will turn into joint R&D projects", – states Nikolaj Goranin, the Head of IT Security program at VILNIUS TECH.

Page administrators:
Kristina Lazickienė
Kristina Lazickienė
Darius Tarasevičius