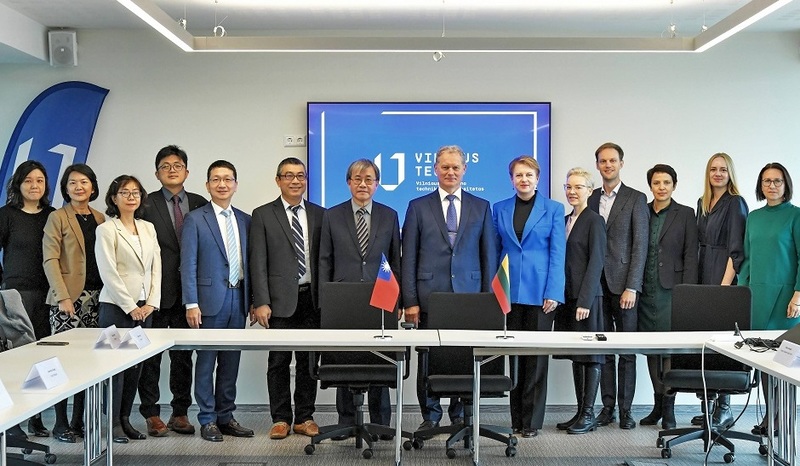 2022-10-13
VILNIUS TECH and Taiwan's National Sun Yat-sen University discussed further cooperation
On October 12, Vilnius Gediminas Technical University (VILNIUS TECH) warmly welcomed a delegation from Taiwan's National Sun Yat-sen University (NSYSU), which consisted of President Prof. Ying-Yao Cheng, Senior Vice President Prof. Chih-Wen Kuo, Vice President for International Affairs Prof. Mitch Chou and others.

Last year, the two universities signed a Memorandum of Cooperation, this year – the agreement on two double degree programmes (in the fields of electrical engineering and information technology security) and discussed the exchange of students and researchers, joint research in electronics, semiconductors, cyber security, artificial intelligence and other fields.

During the meeting, VILNIUS TECH Rector Prof. Romualdas Kliukas said that the universities have a lot in common and productive cooperation will strengthen the scientific potential of both higher education institutions.

The representatives of NSYSU said that they intend to expand the STAR scholarship programme ("Taiwan-Lithuania Semiconductor Talent And Research Scholarship Program", which was initiated by the Ministry of Foreign Affairs of Taiwan) and create the possibility of short-term studies for students from Lithuania. They also introduced the "Taiwan-Europe Connectivity Scholarship" programme and other opportunities for VILNIUS TECH students.

The NSYSU delegation also met with colleagues from the Faculties of Electronics and Fundamental Sciences at VILNIUS TECH and discussed the possibilities of scientific cooperation.
Page administrators:
Kristina Lazickienė
Kristina Lazickienė