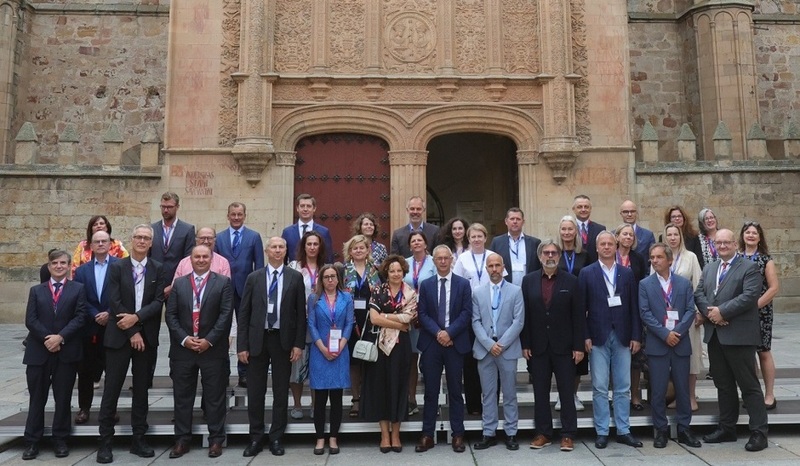 2022-09-09
VILNIUS TECH – member of the European Network of Innovative Higher Education Institutions
The European Commission's new Innovation Agenda for Europe sets out the goal of becoming a world leader in deep-tech and has set up the European Network of Innovative Higher Education Institutions (ENIHEI) to achieve this goal. Vilnius Gediminas Technical University (VILNIUS TECH) was selected to take part in this network.
The first meeting of the network took place on 5-8 September at the University of Salamanca, Spain, with the participation of Živilė Sederevičiūtė-Pačiauskienė, Vice-Rector of Studies.
"For the first time, universities are coming together for deep tech and deep tech startup initiatives, which is one of the key factors for the European Union to achieve a breakthrough in deep tech innovation", said Maria Gabriel, European Commissioner for Innovation, Research, Culture, Education and Youth.
The European Network of Higher Education Institutions aims to enable the exchange of knowledge, ideas, and experiences on how to foster a culture of innovation, and empower creativity, entrepreneurship, and talent.
The network includes over 37 higher education institutions from 27 Member States. The European Network of Innovative Universities plans to invest in activities aimed at embedding higher education institutions in European university alliances, such as the introduction and development of virtual services, improving the quality of studies, developing joint degree programmes, increasing internationalization, mobility, improving infrastructure, etc.
Universities belonging to the European Network of Innovative Higher Education Institutions commit themselves to undertake the activities and actions needed at university, regional, national, and European levels.
The ENIHEI members commit to:
Exchange knowledge to make ENIHEI a true community of practice for education and innovation. To share experiences and good practices with all European higher education institutions.
Promote topic-specific alliances between universities from different European regions that are already leaders in their respective regional innovation ecosystems.
Develop initiatives to bring entrepreneurs together with university research teams.
Implement the actions to foster deep-tech talent contained in the New European Innovation Agenda.
Page administrators:
Kristina Lazickienė
Kristina Lazickienė
Darius Tarasevičius