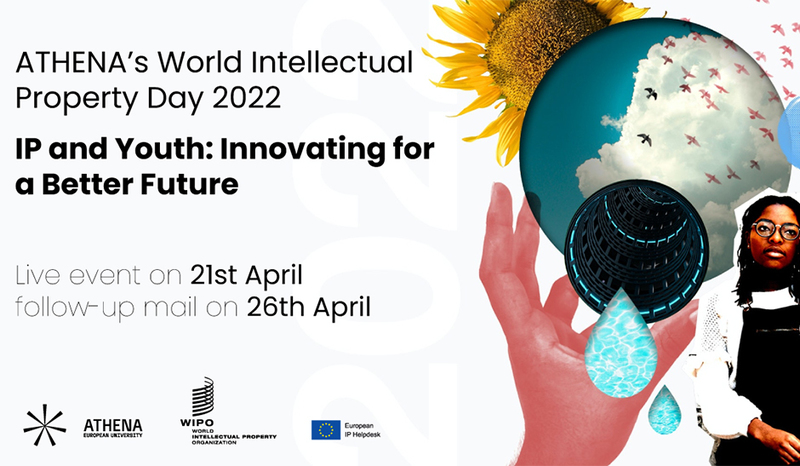 2022-04-19
We invite you to celebrate World Intellectual Property Day
ATHENA European University invites you to participate in ATHENA's World Intellectual Property Day 2022. The theme for this year is "IP and Youth: Innovating for a Better Future".
Every April 26, we celebrate World Intellectual Property Day to learn about the role that intellectual property (IP) rights play in encouraging innovation and creativity. World Intellectual Property 2022 recognizes the huge potential of young people to find new and better solutions that support the transition to a sustainable future.
Event will be held on April 21, 2 p. m., online in English with live lectures/presentations.
More information about WIPO World IP day 2022 can be found
here.
Link for the event (MS Teams) can be found
here.
Link for registrations for IP consultations can be found
here.
IP consultation is quick & free advice organized in a form of 9 X 10' (pre)bookable sessions per expert. Consultation is offered by the members' Liaison/TTO Offices and their innovation ecosystem partners (External TT Consultants, National Patent Office representatives, Patent Attorneys; EU IP Helpdesk Ambassadors etc.) to their pool of participants (UNI Siegen to UNI Siegen/German students, UNI Maribor to UNI Maribor/Slovenian students etc.).
Page administrators:
Kristina Lazickienė
Gabrielė Petrošiūtė
Kristina Lazickienė
Augustė Jablonskytė
Darius Tarasevičius
Agnė Augustinaitė