Creative Industries

overview
Degree
Bachelor of Social Sciences
Length, structure

4 years (8 semesters), internship included in the programme. Graduation is finalized with the defense of the Final thesis

Tuition fee for non EU citizens

2970 EUR per year

For EU citizens same prices as for local students apply, for details click

here

.

Start
1st of September
Main subjects
Media Studies, Theories of Mass Communication, Management of Creative Projects, Media Production, Digital Image Technology, Design of Multimedia elements, Popular Culture Production, Media Projects, Advertising, Visual Communication, Public relations, Creative Industries Studies, Sociology etc.
What are the outcomes of this study programme?
Proficiency in key communication theories and the adept application of these theories in a creative manner, considering the nuances of communication services.
Expertise in business communication strategies and their effective implementation in creative communication projects.
Understanding of the integration possibilities of art and visual communication in the development of communication products for various media platforms such as radio, television, and the internet.
Knowledge of information technologies and the potential of media in developing communication products and services.
The capability to conduct preliminary research, selecting optimal methods and tools purposefully, and the proficiency to analyze and publish research results.
The skill to formulate and implement communication solutions for specific companies, creatively incorporating artistic tools while considering the diverse needs of various audiences and target groups.
The ability to initiate and execute creative communication projects both independently and within a team.
Proficiency in conveying information, integrating informational communication technologies and utilizing media possibilities.
Effective communication with creative team members and society, particularly in the development and presentation of results from creative activities.
Taking complete responsibility for the quality of participants' activity in creative projects, ensuring adherence to professional ethics and citizenship.
The skill to plan and organize personal communication activities, taking into account the ongoing processes in the environment.
The ability to anticipate and evaluate the impact of one's own activities on social, economic, and cultural development.
What will you learn?
Creative Industry study programme is interdisciplinary. The curriculum is designed to give basic knowledge about complexity of the sector of Creative industry. The content is based on five compulsory subject blocks:
Communication and Media Theory (Media Theory, Communication Theory, Business Communication, Visual Communication, Communication of Contemporary Art etc.)
Culture studies (Popular culture production, Philosophy, Audiovisual media, City Studies, Culture policy, Media ethics etc.)
Sociology (Sociology, Quantitative research methods, Qualitative research methods)
Media (Media production, Digital Image Technology, Design of Multimedia elements etc)
Management and Business (Management of creative projects, Media projects, Advertising, Entreprneurship fundamentals for creative industries, Finance management, Marketing etc)
Content strategies (Journalism, Public relations etc).
The block of optional subjects (Photography, Audiovisual projects, Creative writing, Script writing etc) provides opportunity to specialize and apply knowledge in a certain area.
Exchange period abroad
Students, who are willing to study in foreign universities, will have an opportunity to study abroad for one semester in the following countries: Spain, Germany, Italy, Poland Czech Republic, Portugal and others.
CUSTOMIZE YOUR EXPERIENCE
You will have plenty of opportunities to apply and diversity your skills through graduate projects, internships, career programmes, clubs and societies.
What are my career opportunities after graduation?
CI study programme prepares specialists of creative industries "media" and "applied creativity" sectors (advertising, marketing, public relations, multimedia, television, film, press and other). The bachelors of communication may be employed at the private enterprises that provide creative services: marketing, public relations, advertising, design, event organizing, culture and arts projects (television, video, internet, photography, music media, video games) as well as in marketing and public relations departments of various organizations.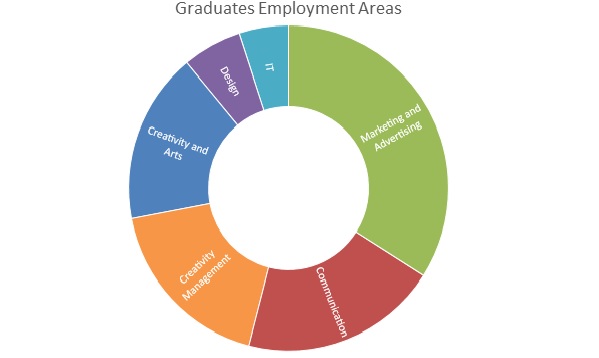 What are the students saying about studying in this programme?
Page administrators:
Karolina Kalinauskaitė
Dovilė Jodenytė
Kristina Lazickienė