Mathematics of Modern Technologies

overview
Degree
Bachelor of Mathematical Sciences
Length, structure

4 years (8 semesters), internship included in the programme. Graduation is finalized with the defense of Final project

Tuition fee for non EU citizens

4050 EUR per year

For EU citizens same prices as for local students apply, for details click

here

.

Start
1st of September
Main subjects
Discrete Mathematics, Big Data, Insurance, Databases, Project Management, Decision Making, Machine Learning, Digital Image Algebra, Financial Engineering and Modelling, Computing, Optimization Methods.
What this study programme is about?
It is no revelation that we regularly engage with various smart devices and encounter digital products in our daily lives. Perhaps, some of us have even heard about digital currencies. What might surprise you, however, is the integral role that mathematics plays in all of these aspects. The mathematics underpinning today's technological products becomes less daunting once you grasp its fundamentals; it essentially serves as the language of modern technology. While we may be familiar with the alphabet of this language, not all of us can innovate and ensure the secure and flawless operation of new systems.
If your aspiration is to not merely be a user but also to become a developer of cutting-edge, secure products, to align your pursuits with the management, processing, and analysis of substantial data flows, or if you harbor an interest in the potentials of artificial intelligence, then the mathematics of modern technologies is the key to unlocking these opportunities for you. Here, you will discover a supportive community ready to assist you, along with all the necessary conditions for your self-realization.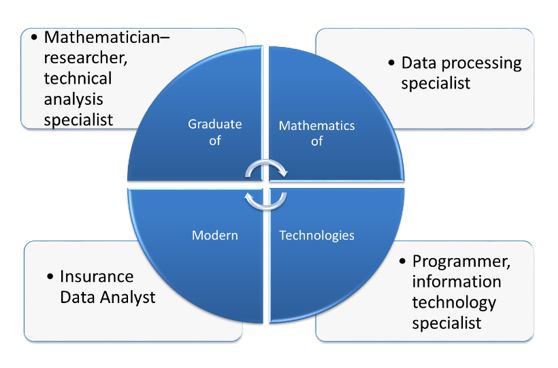 What will you learn?
After completion of Mathematics of Modern Technologies first cycle study programme you will be able to apply knowledge to develop new high-tech-based products and services, based on the application of mathematics in different fields of life. You will know general laws of mathematics and informatics, develop your logical thinking, and will be able to work individually and in a team.
Follow us on social media to get the latest news and events:


CUSTOMIZE YOUR EXPERIENCE
You will have plenty of opportunities to apply and diversity your skills through graduate projects, internships, career programmes, clubs and societies.
What are the career opportunities after graduation?
The programme of Mathematics of Modern Technologies aims to prepare high-level professionals who are not only experts of classical mathematics, but are also capable of applying several fields of science at once. Graduates transform their acquired knowledge and understand the application of mathematics in various fields of life including the financial sector, activities of insurance companies, electronics, medicine, information technology, service and other fields. Acquired education will present you with different possibilities. Independent, pro-innovation personalities are always desirable in various companies and institutions.

We believe that graduates of this study programme have advantages in the labour market as they do have a wide range vision and are acquainted with various products. Deep knowledge of mathematics and logical analytical thinking will allow one to transform knowledge of different fields in search of new technological solutions, development of new services, forecasting and assessing market situation. As the programme of Mathematics of Modern Technologies is prepared in cooperation with social partners, it is estimated that partner companies could employ a portion of the study programme graduates each year.

Page administrators:
Karolina Kalinauskaitė
Dovilė Jodenytė
Kristina Lazickienė