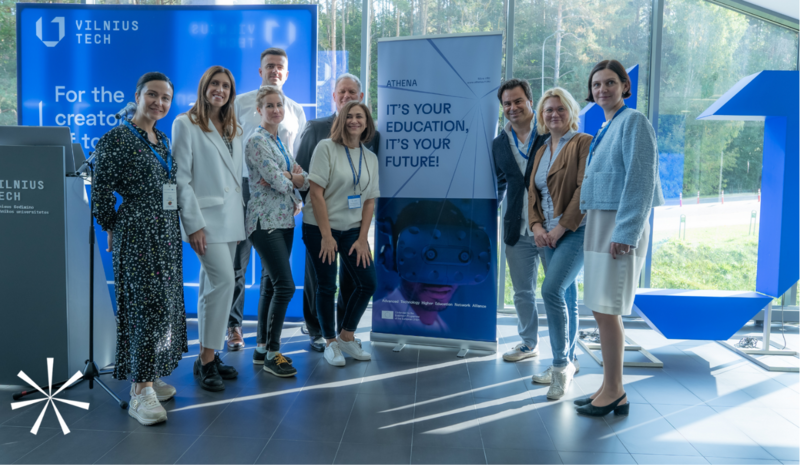 2023-09-28
ATHENA Sustainability School challenges international students at VILNIUS TECH
The secondary use of coffee grounds, the relationship between green spaces and expanding infrastructure, and noise prevention in the city - these and other issues are being addressed by participants in the VILNIUS TECH Sustainability School. In an initiative led by the VILNIUS TECH Sustainability Hub, students from various Lithuanian and European universities with an interest in ecology and sustainability are confronting various challenges.
The initiator of the Sustainability School is the VILNIUS TECH Sustainability Hub, established in April of this year. According to Assoc. Prof. Dr. Raimondas Grubliauskas, the head of the VILNIUS TECH Sustainability Hub, there has been an ongoing discussion about sustainability. However, in his opinion, there has been a lack of broader collaboration between different institutions and the public.
"Sustainability has been a strategic goal of the university for several years, and the Sustainability Hub has been established to strengthen competencies in the field of sustainability, efficiently carry out university activities, promote a unified approach to sustainability among university departments, and nurture a culture of responsibility towards the environment, society, and the region. This project, the Sustainability School, aims to bring together different institutions, from university students to public and business organizations, to jointly promote sustainable, climate-neutral innovations," says Raimondas Grubliauskas.
In a two-week program, Lithuanian and international students envision sustainability
According to Assoc. Prof. Dr. Asta Radzevičienė, the coordinator of the ATHENA alliance at VILNIUS TECH University, the Sustainability School project operates on the principle of a blended intensive program (BIP).
"International students, working in mixed teams with VILNIUS TECH students, not only study intensively for two weeks but also develop unique solutions for sustainable future businesses and society. The Advanced Technology Higher Education Network Alliance, ATHENA, which unites VILNIUS TECH and eight other European universities, is creating new opportunities for international student and staff mobility and interdisciplinary collaboration. One such opportunity is the Sustainability School, which contributes to the European green transformation," says A. Radzevičienė.
During the first week, dozens of students from VILNIUS TECH and universities belonging to the ATHENA alliance from Spain, Portugal, Germany, Slovenia, and other European countries participated in lectures and remotely analyzed sustainability challenges presented by VILNIUS TECH partners. The range of topics is wide, including the importance of sustainable development, noise pollution, green energy development, and public involvement in solving sustainability challenges.
During the second week, Sustainability School participants met at VILNIUS TECH, where they engaged in creative workshops and searched for solutions to selected sustainability challenges.
"The challenges faced by the Sustainability School teams are divided into two groups: urban issues and business issues. In total, the students are working on seven different challenges," says Assoc. Prof. Dr. Rūta Mikučionienė, Coordinator of the Sustainability School activities.
Several Vilnius city organizations present challenges: the "Susisiekimo paslaugos" SĮ (JUDU) challenges participants to create value in electric transport and provide more benefits to ordinary citizens - green spaces or expanded infrastructure. Meanwhile, "Vilniaus planas" SĮ is seeking sustainable ideas for noise prevention in the city.
A significant challenge for participating students is to shape public opinion about Vilnius as a carbon-neutral city. It is noted that Vilnius won an international competition and aims to become carbon neutral by 2030.
Meanwhile, "Reitan Convenience Lithuania" invites Sustainability School students to find solutions to two of their challenges: how to use coffee grounds sustainably and how to transform the culture of coffee takeaway. VILNIUS TECH has prepared a separate challenge for Sustainability School students. The students involved in it are looking for solutions to strengthen the university's role in promoting positive behavioural changes in society.
The final event of the Sustainability School is on September 29th when student teams will present their ideas, which will be evaluated by the companies and organizations participating in the project, and they will decide on the feasibility of implementation. Teams that overcome the challenges will be rewarded with gifts from VILNIUS TECH and its partners.
The initiators of the Sustainability School, the VILNIUS TECH Sustainability Center, aim to initiate and develop a sustainability theme cluster in the ATHENA European University Alliance, of which VILNIUS TECH is a member. ATHENA alliance partners - universities in nine EU countries - aim to develop digitally transformative, technology-based, internationally competitive higher education that reflects the needs of society.
The establishment of the Integrated Sustainability Technologies Laboratory at VILNIUS TECH is funded by the Economic Revival and Resilience Plan "New Generation Lithuania" and the state budget of the Republic of Lithuania.

Page administrators:
Kristina Lazickienė
Kristina Lazickienė