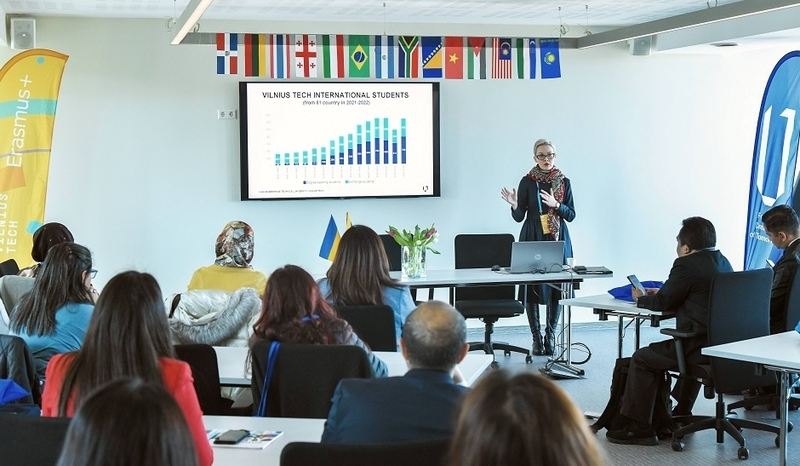 2022-05-13
Back on track of internatinalisation
On 9-13 May 2022, after a two-year break, VILNIUS TECH International Relations Office has welcomed 30 colleagues from 14 countries and 16 partner universities worldwide at the International Staff Week "Back on Track of Internationalisation" implemented within the framework of Erasmus+ International Credit Mobility Programme. The event was aimed to discuss the post-pandemic trends in internationalisation and share examples of good practices.

Presentations and discussions of the staff evolved around the key priorities of the Erasmus+ 2021-2027 programme: inclusion, digitalisation, sustainability, civic engagement and active citizenship. Participants from diverse countries enriched the discussions with their unique experiences and insights and had an opportunity to apply new digital tools. The university research facilities and the Innovation and Creativity Centre "Linkmenų fabrikas" were presented. In addition, meetings were arranged with the VILNIUS TECH administration, representatives of faculties and units. Some of the participants were also giving open lectures to VILNIUS TECH students.

Representatives of the following partner universities have participated in the International Staff Week:
Asian Institute of Technology" (Thailand)
Budapest University of Technology and Economics (Hungary)
Georgian Technical University (Georgia)
Hanoi University of Science and Technology (Vietnam)
Instituto Tecnologico de Santo Domingo (INTEC) (Dominican Republic)
International University - Viet Nam National University Ho Chi Minh City (Vietnam)
International University Travnik (Bosnia and Herzegovina)
Ivane Javakhishvili Tbilisi State University (Georgia)
Jordan University of Science and Technology (Jordan)
Karaganda State Technical University (Kazakhstan)
Turin Polytechnic University in Tashkent (Uzbekistan)
Universidad Centroamericana Jose Siemon Canas (El Salvador)
Universidade de Sao Paulo (Brazil)
University of Pretoria (South Africa)
University Technologi Malaysia (Malaysia)

For the first time, the "green event" approach was apllied at VILNIUS TECH International Staff Week, which included sharing only digital materials, group work in the virtual Miro platform, and applying sustainable organisational solutions at the event.

The unique programme of the International Staff Week that integrated networking, rich internationalisation content with cultural experience has received exceptionally positive feedback from its participants. The event contributed to the better visibility of VILNIUS TECH in the international arena and is expected to encourage the mutual exchange of students and staff.

Page administrators:
Kristina Lazickienė
Gabrielė Petrošiūtė
Kristina Lazickienė
Augustė Jablonskytė
Darius Tarasevičius
Agnė Augustinaitė