Home
About University
News
VILNIUS TECH "LinkMenų fabrikas" hosted a hackathon "Rethinking Hardware" – 11 prototypes presented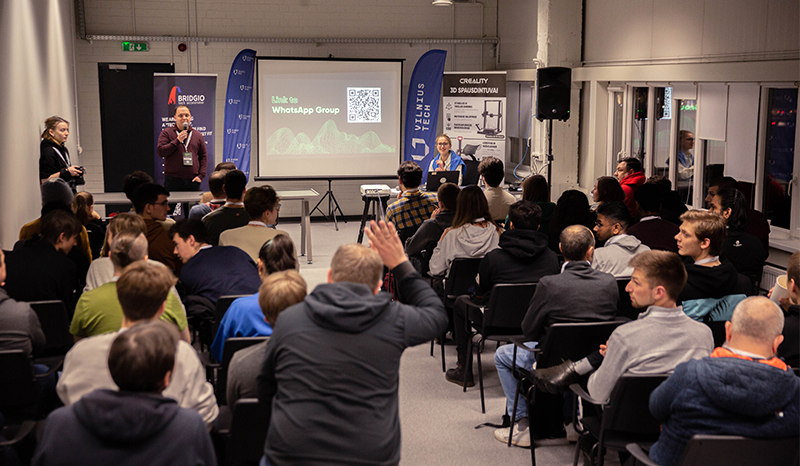 2022-12-16
VILNIUS TECH "LinkMenų fabrikas" hosted a hackathon "Rethinking Hardware" – 11 prototypes presented
On 9-11 December, Vilnius Gediminas Technical University's (VILNIUS TECH) Creativity and Innovation Centre "LinkMenu fabrikas" hosted a three-day hackathon "Rethinking Hardware". The hackathon, organised with the "Bridgio Tech Accelerator", involved students from VILNIUS TECH and other higher education institutions, as well as representatives from the hardware industry, in developing prototypes of advanced electronic solutions. The first-place winner – "The Box" team, presented a hardware-based solution which will be able to place rentable items all over the living districts.

The "Rethinking Hardware" hackathon aimed to redefine how and why we use electronics and rapid prototyping. From Friday evening onwards, participants created solutions with the help of VILNIUS TECH "LinkMenu fabrikas" and other partners, mentors, and lecturers. During the hackathon, participants could choose one of 11 pre-defined challenges. Participants who wanted to submit their challenge participated in an idea generation workshop beforehand. After the hackathon's opening on Friday, makers built and strengthened their teams, consulted with experts on their chosen challenges, and spent Saturday prototyping. Using the VILNIUS TECH "LinkMenu fabrikas" workshop, the participants, worked in electronics, 3D printing, metal, and wood workshops.

On Sunday, the prototypes of the hackathon participants were evaluated by a competent jury –Roman Pakholkov (Chairman at "Promwad", mentor at "Bridgio"), Ričardas Leščinskas ("Arrow Electronics Solutions" Field Application Engineer), Donatas Šumyla (Head of Startup Partnerships between "ROCKIT Vilnius" and "Swedbank Lithuania"), Jolanta Zubkauskienė (Manufacturing Innovation Valley, Head of Development), Dovilė Kurpytė-Lipnickė (Electronics and informatics engineer, international Speaker, lecturer at VILNIUS TECH).

The cash prize of €1,500, a 2-month "Bridgio Tech Accelerator" pre-acceleration programme and access to any NVIDIA Deep Learning Institute self-paced course, was awarded to "The Box" team. The team members – Dovydas Valančius, Ginta Ambražaitė and Lukas Žavlovskis, ¬presented an idea based on the sharing economy – a prototype of automated sharing stations where people could rent and lease various items. Second place went to the "Aces" team. The prototype developed by this team called a "Lightsdown" – a smartphone-linked street lighting control system. The third-place winner, "Cool & Creative", presented an energy-efficient solution for street lighting. An additional prize – a three-month membership to VILNIUS TECH "LinkMenu fabrikas" – went to the team "EM EI EI", who presented the prototype "City/Park", a network of small cameras installed on lighting poles and traffic lights. In addition to the prizes mentioned above, "Würth Group electronics" and "Tele2 Lietuva" provided special prizes for participants.

The hackathon brought together more than 60 technical creativity enthusiasts, the participants were supported by 20 VILNIUS TECH and business world mentors, and the total prize fund of the hackathon amounted to EUR 3 500.

The event's main sponsors were "Promwad Electronics Design House", "Softeq", and "Anodas electronics".




Page administrators:
Kristina Lazickienė
Kristina Lazickienė