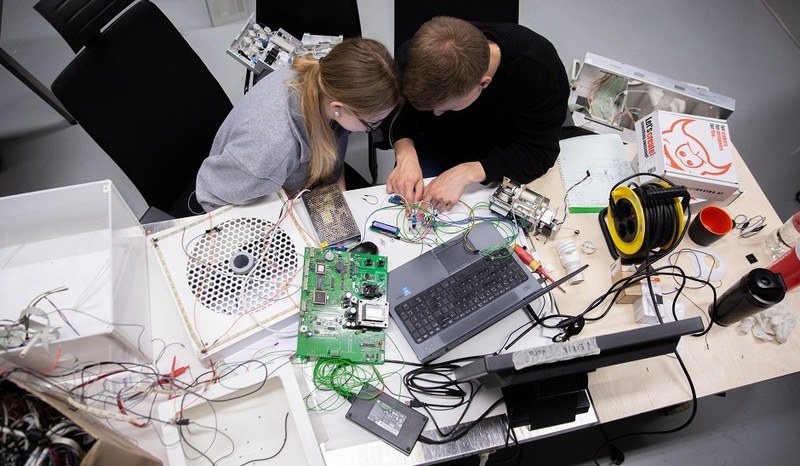 2022-11-15
VILNIUS TECH "LinkMenų fabrikas" invites to "Rethinking Hardware" hackathon
Everyone in the hardware industry – from students to experienced engineers - is invited to take advantage of a unique opportunity to prototype advanced electronic solutions and develop start-ups together with experts. The "Rethinking Hardware" hackathon will take place on 9-11 December at the Vilnius Gediminas Technical University's Creativity and Innovation Centre "LinkMenų fabrikas". The organisers of the hackathon – "Bridgio Tech Accelerator" and VILNIUS TECH "LinkMenų fabrikas", supported by "Promwad", an electronics design house, focusing on future technologies – e-mobility, smart homes, IoT and others – will open up a space where participants can work on innovative ideas and turn them into real projects. The hackathon's main cash prize is 1500 eur and the whole prize pool worth is 3500 eur.
Hackathon concept
The "Rethinking Hardware" hackathon is a 3-day event that will help redefine how and why we use electronics and rapid prototyping. Participants will develop innovative solutions with the help of mentors and speakers from VILNIUS TECH "LinkMenų fabrikas" and other partners. All hackathon participants will be able to use the rapid prototyping workshops at VILNIUS TECH "LinkMenai Fabrikas" – electronics, woodworking, metalworking, 3D printing, painting, and the latest equipment and tools available in the workshops. After the hackathon, VILNIUS TECH "LinkMenu Fabrikas" and "Bridgio Tech Accelerator" will continue to support and help participants to turn their ideas into real products.
During the hackathon, participants can choose one of 11 pre-defined challenges and solve it together with a team, mentors and experts over three days (9-11 December). For those who want to submit their challenge, an idea-generation workshop will take place on 2 December, during which you will have the opportunity to form your challenge with the experts and try to shake up the future of electronics. The workshop aims to generate a series of product ideas based on an analysis of future trends from the 5-10 year perspective. Based on the workshop results, each participant will formulate their challenge, which the participant will present at the hackathon and develop an innovative solution.
Hackathon challenges
The hackathon aims to encourage young and experienced developers to create innovative and scalable solutions to address problems at the intersection of social, technical and urban challenges. Challenges for the hackathon include smart home solutions, adapting and complementing street lighting, and developing cheaper solar storage capacities. Interested can find all hackathon challenges
here.
The event is free of charge, and the hackathon organisers and partners will provide all necessary technical components and workshops.
The event will be held in English.
Registration for the event
here.
Registration for the idea-generation on 2 December is here.
More information about the hackathon is available
here.
Page administrators:
Kristina Lazickienė
Kristina Lazickienė