Mechanical Engineering

overview
Degree
Bachelor of Engineering Sciences in Mechanical Engineering
Length, structure

4 years (8 semesters), internship included in the programme. Graduation is finalized with the defense of Final project

Specializations
Machine Design
Tuition fee for non EU citizens

4050 EUR per year

For EU citizens same prices as for local students apply, for details click

here

.

Start
1st of September
Main subjects
Quality management, Standards, Robotics, Cutting technologies and tools, Machines of energy transformation, Mechanical laser and other manufacturing technologies, Machines and devices, Measuring instruments and machines, Certification and accreditation, Mechatronic systems, Mechatronics, nanotechnology.
What are the outcomes of this study programme?
Students will acquire a comprehensive knowledge base in the field of mechanical engineering, enabling them to proficiently utilize modern measuring and diagnostic systems and assess parameters of mechanical systems. This knowledge will be applied in the production of machines and mechanisms, incorporating the use of advanced technologies. The program aims to cultivate the ability to observe and critically analyze technical and administrative challenges related to the development, design, production, and operation of machines and mechanisms in the global market. Additionally, students will develop creative problem-solving skills, recognize the significance and value of their solutions in the social context, and continually enhance their professional skills and competence through lifelong learning.
Follow us on social media to get the latest news and events:


What will you learn?
About robotics, design and production of industrial robots, its implementation in industrial systems.
About CAD/CAM and other software in mechanics systems design
To analyze and design systems of machines and mechanisms using CAD/CAM, to analyze the production process, to choose appropriate materials, equipments, to perform the engineering calculations of the mechanical systems.
Where can you do an internship?
Professional internships are carried out in companies with the most recent production facilities and technologies in Lithuania and abroad. Students acquire practical skills working with the equipment, technolog and learn about the company management.
Exchange period abroad?
Students who are willing to study in foreign universities, have an opportunity to study abroad for one semester in the following countries: Finland, Sweden, Germany, Portugal, Spain, England, France, South Korea, Taiwan, USA, etc.
CUSTOMIZE YOUR EXPERIENCE
You will have plenty of opportunities to apply and diversity your skills through graduate projects, internships, career programmes, clubs and societies.
What are the career opportunities after after?
At achieving the bachelor qualification in mechanical engineering by the study program of mechanical engineering people can work as specialists of mechanical engineering in enterprises of production of environment protection equipment, metrology centers, organizations of design. Having organizational abilities simply became the leaders of enterprises or their sections.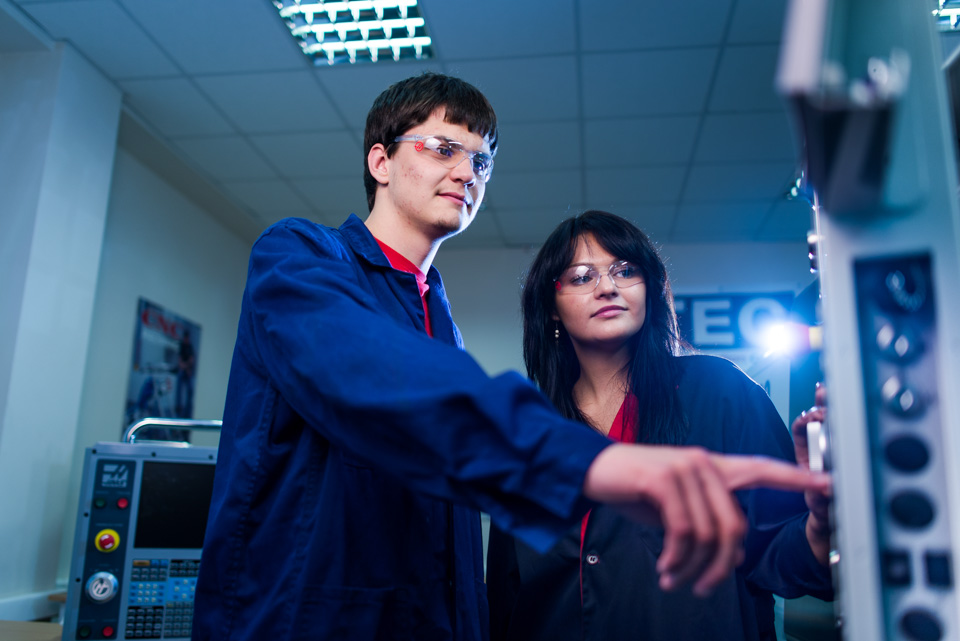 Student testimonials
Ekaterina Kashpar

from Russia

I am third year student in mechanical engineering faculty. When I came here I was really confused about my studies. In moscow I graduated humanitarian faculty,so since the begging I was really lost. But with the help of professors and international office I started to understand what's going on here! My marks are not very good but for me it's not the biggest problem. I like my education here, I am interested with my lectures and laboratory works! We had one subject where we needed to do a course project and in the end we had a chance to stay in laboratory center and build what we created by ourselves. That was the best, cause I applied everything what I learned and even improved my knowledge. So I can say that as all universities it has pluses and minuses but in total I am happy here! And next semester I will do my erasmus exchange! And no matter which kind of problem I have, always international center is ready to help. I was not appreciating it that much, but now having all the problems with other universities, I understood that people who are working there really care about all of us. Thank you so much! Every year VGTU is improving the quality of the work and with time it will get better and better!
Daniel Singh

from India

I am a third year student of Mechanical Engineering in Vilnius Gediminas Technical University. In the past two years, I had a great time with my education. Engineering, as I consider is a concoction of elite practical and theoretical knowledge both of which were available to us. One of the major positives consist of semester wise course projects and important lab works which are must for an engineer.
Inspite of good education, I never faced any difficulty with my social life. As my Lithuanian class mates are very friendly, and easy to mingle with. Moreover International study centre was always there to guide in any situation. The professors at VGTU are very helpful and also provide with personal attention.
We have a merry environment in the university throughout the year, as there are a lots of social events going on in which both international and local students participate. One of the major attractions of VGTU is the job fair which is usually hosted in February. Here, students have the opportunity to look for internship and placements.
Having said all this, my personal experience has been worth praising for. I thank God for giving me an opportunity to be a part this institution.
Page administrators:
Karolina Kalinauskaitė
Dovilė Jodenytė
Kristina Lazickienė